This post is to answer some questions about Andrew's homemade solar shower...
We've just started using it again this year and have been reminded how much we absolutely LOVE it. I'm always amazed at how bright and cheery my mood is when I step out into the garden after having just enjoyed a long hot shower in the sunshine. Makes you never want to shower in a dark, dank bathroom again! :)
So here she is...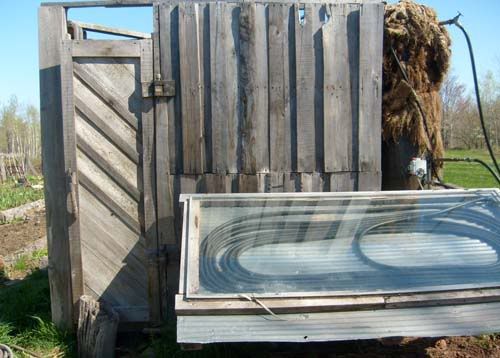 Not much to look at, I know. But well worth the effort! Our only expense in this whole project was the black hose which our friends donated (we are forever indebted Mrs. & Mr. L!! ;).
Because you are all probably thinking what my Aunt had to ask during her last visit: "what kind of critter do you have strapped on that tank?" (lol!), allow me to explain that right now: the holding tank is temporarily and crudely insulated with a couple of matted wool fleeces to hold the heat in longer, extending the showers later into the evening. No critter, live or otherwise, just unsightly. ;)
The shed is made out of pallets (which we got for free) and is situated out in the garden where the water can be recycled back to the plants.

It's a stand-alone system; you have to connect the garden hose to it in order to get pressure.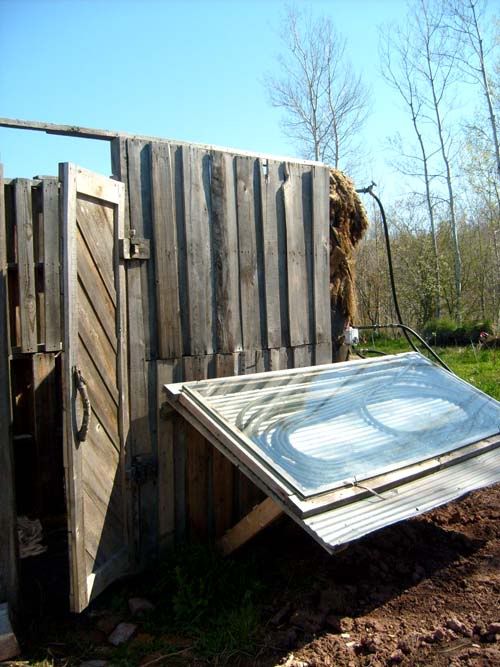 There's 100' of black hose, sandwiched between a sheet of roofing metal and a pane of glass. Andrew used an old 30 gallon water heater as a holding tank for the hot water, and it is elevated above the solar collector (black hose). That way a thermal-siphon cycles the water through the tank, heating the whole thing in a few hours on a hot day.

We were able to take hot showers when the temps were as low as 60-65 degrees! On a hot day it only seems to take about an hour to generate enough hot water for a nice long shower.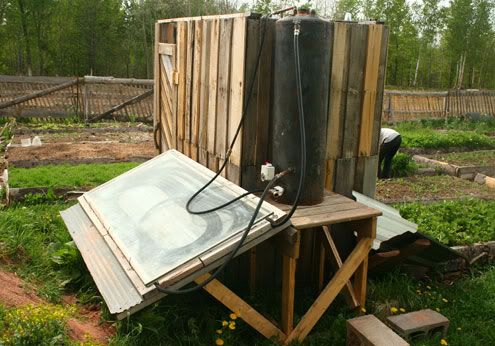 From last summer w/out the wool insulation around the tank.
There's a "Y" fitting where the garden hose hooks up at the bottom of the tank. A hose runs cold water from the "Y" up to a valve that tees into the shower head. That way you can adjust the amount of cold water mixing with the hot water from the tank and control the temperature.
A shower head with hot and cold water switches, a bar of soap, towel, privacy, what else do you need?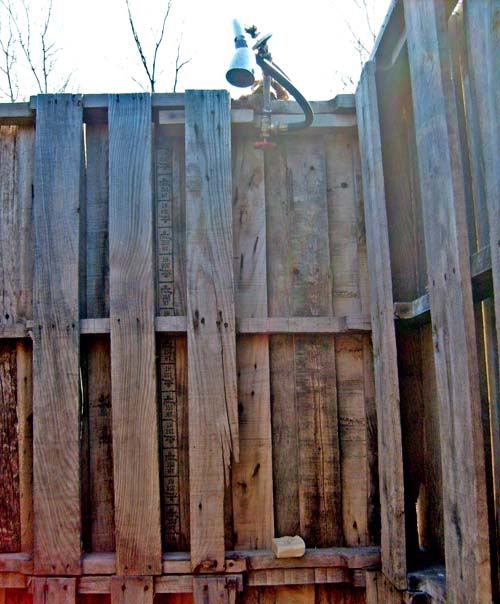 Above you is the privacy of a wide open blue country sky, an occasional fluffy cloud and a few birds.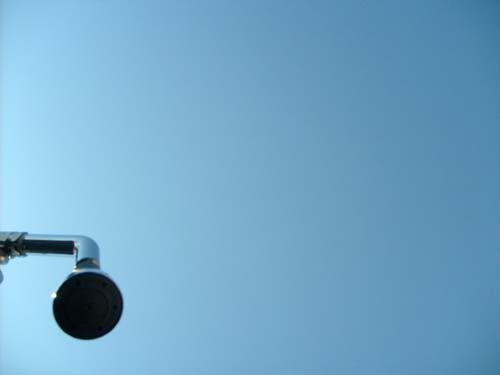 You step out into a big industrious garden where you can weed and wander, allowing you hair to dry in the sun and slight breeze.

We've found this to be one of the best money saving things yet built on our farm. Free hot water for almost no cost. When there is an abundance in the tank, we steal some for dishes and laundry as well. A few of these or a smaller family and you'd never have to turn your hot water heater on during the summer at all! Yeah!
Oh, and just case you haven't yet concluded it, I find showering in the sun to be an awesome experience that everyone has to try!! :)
And just in case some crazy person wants to build their very own, here's a pictorial description of how it works: