Sitting on the porch, watching the sheep munching away at the new feeder I had just constructed (with Mike's help) for them, I was thinking of the invaluable resource used in its construction; pallets.
It's always cool when you can take society's "garbage" and turn it into something useful. There are a lot of "unnatural resources" out there to tap into if you look around and use your creativity. One of our most plentiful materials happens to be the humble pallet. And the best part is how economical they are to obtain: $0.
I thought I'd take a walk around and highlight some of the ways we've found to utilize these versatile, albeit cumbersome modular building components.
Here are a couple of potato bins down in our root cellar... (It was dark down there, btw. I had to navigate by the light of camera flash...) Yup, the reserve is getting low.. there are a few bags in the left bin, but it's exciting to have a whole field at work out there producing this year's harvest!
What's a yooper without his firewood pile? And what's a firewood pile without pallets underneath and on the ends to support it? All knocked over and in a big mess, that's what. Been there, done that.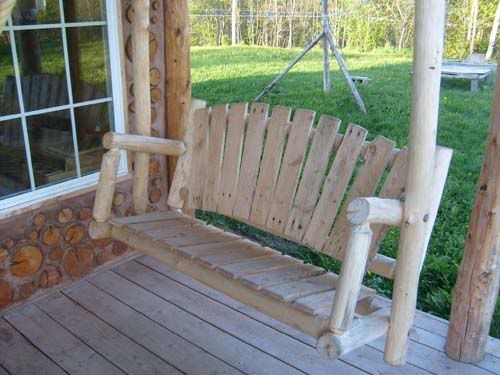 Steve used pallet planks to build this swinging bench last year. We've actually made numerous chairs and benches that feature reclaimed seats and backs.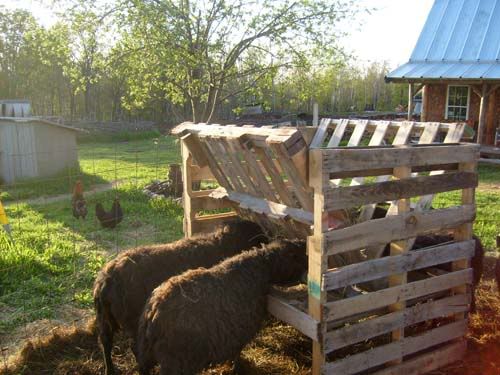 Ah, yes. The new hay feeder... We've procrastinated on building one of these for way too long! If we had known it'd only take 10 minutes and a few pallets, maybe we would have built it a long time ago...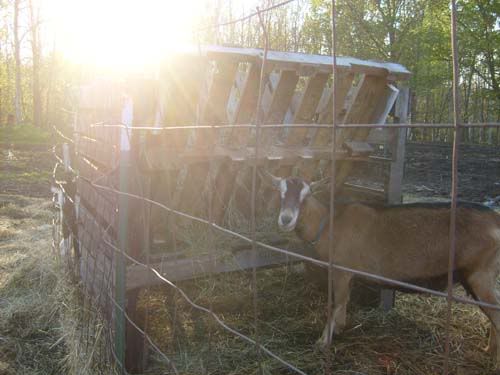 And... The goats got their own new feeder too! This one took a bit longer to construct, mainly due to the fact that the playful animals were jumping all over our project and knocking it down before it was completed... See the guilty look on her face? No? (That's cuz it was actually the other one...)
A base for a grain storage bin..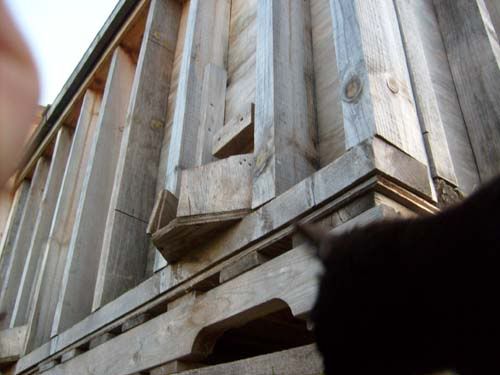 This is what happens when you try to get all artistic and down low... A cat comes running over and gets in the shot. Though, I guess I can't blame the cat for my thumb over the lens...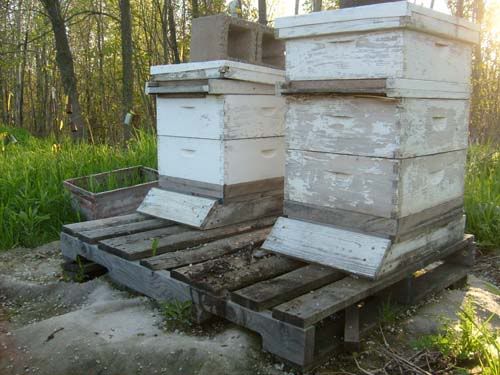 And--pallets for putting stuff on! Who'da thought, right?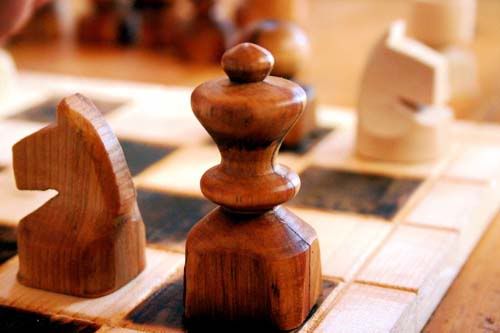 And--Don't forget to save the best wood for small projects like games and toys! Steve laminated hardwood pallet planks and turned them on the lathe to make our family's Chess set! (We let him win occasionally to show our gratitude...)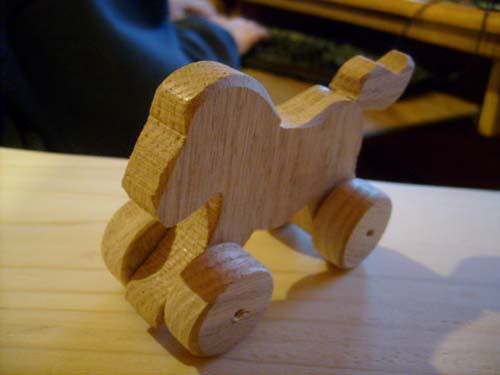 Never thought wheels could look "cute" on a horse, but these little Christmas toys have changed my thinking.. Made completely from pallet-procured oak!
Well, that's all I've got for now. I know, I'm not quite up to 101 yet... though I'm sure there's plenty of things I missed.. Just thought I'd share, and maybe give ya' a couple of ideas! Oh, and if you can think of a new way to put some pallets to good use, let us know in a comment below. We're always looking for new ideas!
Andrew