Last night Michael came flying through the back door at an alarming speed, his milk bucket sloshing dangerously at his side, crying: "Guys! Come look at the northern lights!!"
Now, I need to admit, they weren't this brilliant for us watching with naked eyes; we only saw the green, but taken with a slow shutter speed, Steve was able to capture a lot of other colors happening up there!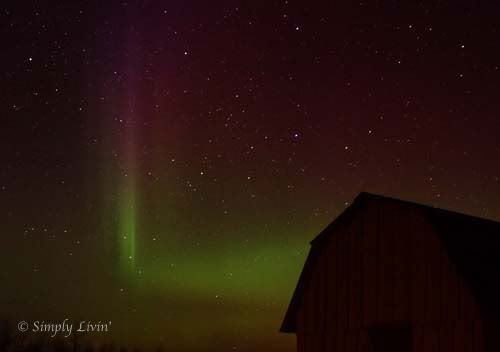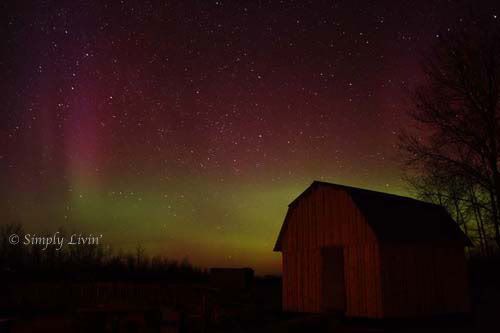 When we got back inside, (brr!) the kids begged me to look up 'what are the northern lights?' (Homeschooling at its most brilliant! :) Not surprisingly, I found varying explanations on every link that I checked out (love how they each talk in absolutes, though!). So, I shared the various theories with the kids, but made sure I left it open-ended so that if anyone wants to become a scientist/astrologer in their adulthood, there is some enticement. They can have fun writing their own theories. :)
Pretty, huh?
What about you? Have you ever seen the Northern Lights?
Oh, and Mr. Snow must have heard me
yesterday
, because our predicted snow has turned to rain (See? You just need to use a little authority in your voice! :)
So, here's what the kids are up to this rainy afternoon: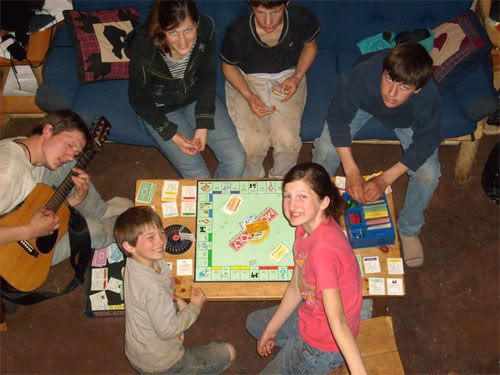 Well, I don't know about the rest of you, but:
"Rainy days and Sundays always bring me UP!"
:)