So, if you've browsed our
shops
recently, you'd see that I've been knitting up a small storm, of late...
(or herd... whatever :)
I'm just really into knitting right now and thoroughly enjoying every minute behind my needles. But, if you've also been following the blog, you'd know that we're very busy with the harvest of late, so that means my knitting time is limited. On top of that, the girls and I have been really enjoying taking these long walks every evening, and while I really, really enjoy those, I always feel antsy when I'm empty handed, just strolling along...
SO, with those problems in mind, here's what I came up with...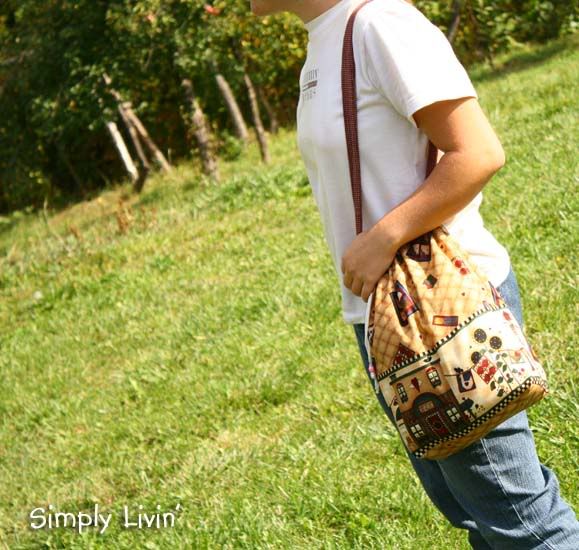 The ultra uber, super duper, walking knitters delight! ;)
HeeHee! I crack myself up. Sounds like I'm selling it! (I would never.) :)
ANYWAY...
I whipped this up in a few hours. The inside is loaded with pockets of every size, to carry my different sized needles, scissors, patterns, yarn...
I put my working yarn in one of the top pouches and the drawstring closer allows the yarn to slide out while the bag is closed and I'm walking along. I know it sounds strange to walk and knit, but I love it! :)
I've been so productive in my knitting lately; I grab my bag when we're walking out the door and knit every chance I get. I knit a half a horse body while watching the kids on the playground a few days ago, and finished up his head the next day while on a long walk with the girls. Soo fun to multitask doing things I love. :)
As much as I love my new knitting bag (the fabric is truly adorable) what I really love right now, are my new little ponies...
Donna and I have been doing nothing but fighting over them all day long...
Kidding... of course! :)
I content myself with knitting new ones, while she is content to hold them once in awhile (babysit, as she calls it). Maybe if she continues to be the sweetest-ever little girl that she is, on Christmas morn she'll find her own pony hanging out of her stocking. ;o) (Shh!)
For now, she keeps on telling me what to knit next...
"Mowre howrses!"
Rainy day today, so I'm off to knit "mowre howrses" with my new awesome mobile knitter bag! :)