Stephen (in the cute voice he reserves for his horse): "Mithsey!!"



Cows: "What's a Mithsey?"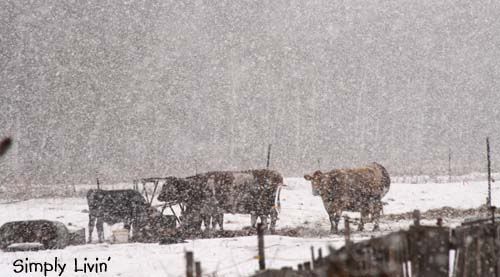 Missy: "?!!"



"Is he gonna feed me? I'll bet he's finally gonna feed me. I need to get to the feed--show him it's empty. Dang, if it weren't for this snow fall he could see my ribs! Wouldn't he feel bad if I just up and fainted right now? Goodness knows he hasn't fed me since yesterday. You just can't expect a growing horse to live on nine round bales a day!"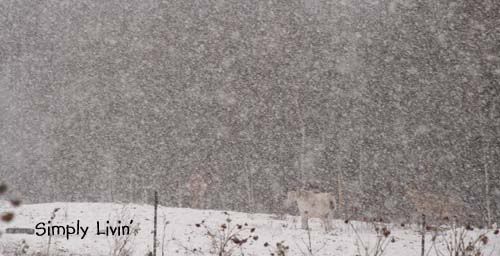 Lena: "Did somebody say, ' nine round bales'?"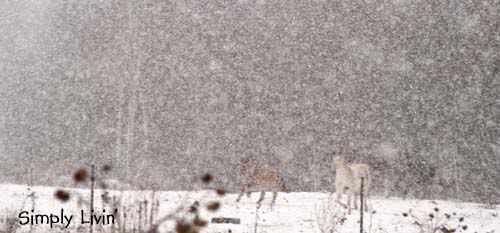 Missy: "Oh no you don't, you selfish little pig!" (*gasp,*pant*).



Lena: "Don't you go callin' me a pig! It's not for nonsense that Stephen calls you 'MithseyFat',



Missy: "Why you!! You're lucky I can't run very fast in this inch of snow!"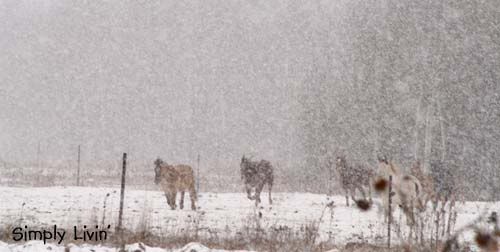 Lena: "I don't think the cause is the snow MithseyFat."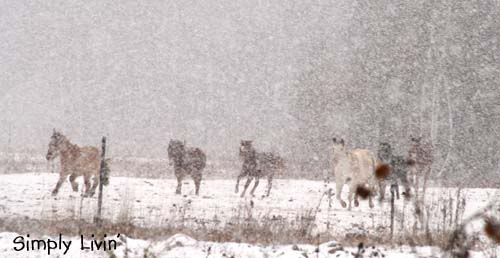 Other ponies and mules (chanting): "Round bales! Round bales! Round bales!"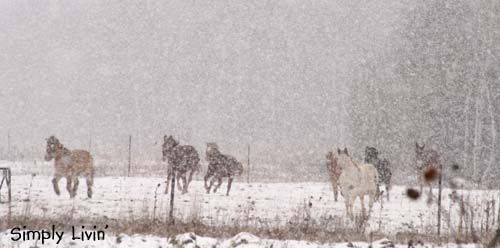 Missy and Lena, "Noooo!! You guys go back to your snowflake catching competition!!"



"Wait, wait! There he is, there he is! I see him!"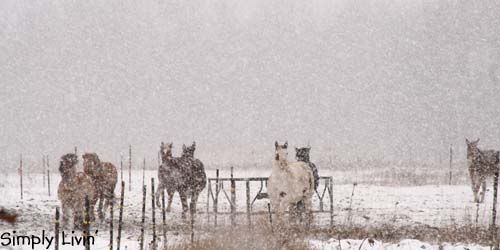 "He's, he's..."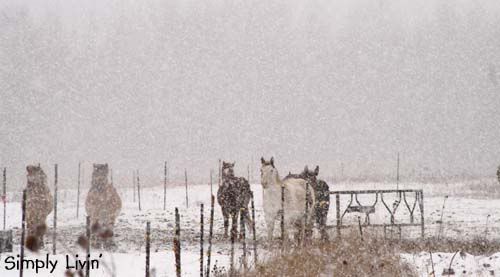 "Taking.. pictures... of us."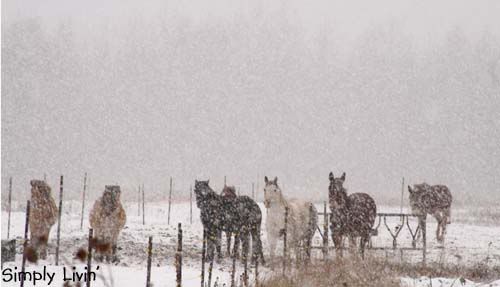 MithseyFat: "Aw dang..."

True story.
The End.
Author's note:
Snowy mornings (like this one) tend to get the ponies and farm chore crew quite frisky!
An extra hour can easily be expected for the completion of morning farm chores. Such dry, off the cuff remarks from coffee sipping elders starring out the window are often heard as: "Theresa is sitting on Johnny in the snow..." You can also tell when extra care is being taken in the bundling up of protective outerwear, such as snow pants, scarves, and ski goggles, that the extra efforts aren't meant to aid in opening the chicken door or pouring the feed. More likely, there are plans in store for another snow skirmish and likely, revenge on yesterday's farm chore excursion. When laughing, pink nosed, snow covered children dart inside with a rush of cold air and a flurry of snow, slamming the door on the shrieks and snow balls of their competitors, us coffee sipping elders slowly nod and comment on the familiar sounds of the season. You just can't have the beautiful, gentle morning snow cover, without all the sounds and snowballs that are sure to come with it on the farm...
Thanks for taking the time to sip coffee and comment with me on this lovely snowy morn! ;)