Again, joining with Ginny's Wednesday
yarn along
to share what I've been knitting and reading lately.
The answer?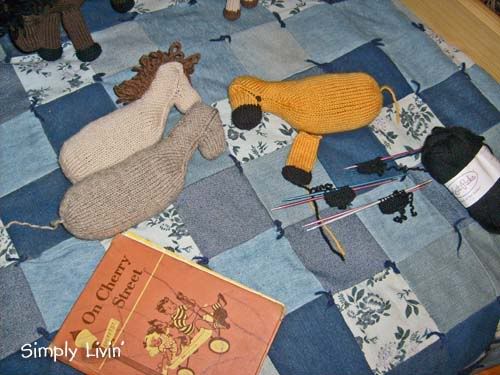 Ponies, ponies, ponies! The one I shared in progress in
my last week's
yarn along was sold before I got the tail on him. So, I went ahead and finished the baby that was going to accompany him and was trying to finish his Momma for the second time when I ran out of yarn. Then I got a second order for my Spirit pony for a return customer and was just two miserable legs away from finishing him when I ran out of yarn. Arrugh! I've let Annie in on my secrets and am having her help me keep up with the demand. She's making another
Apple's pony
since he's already sold twice to happy customers.
My finished ponies are my company and inspiration as I knit.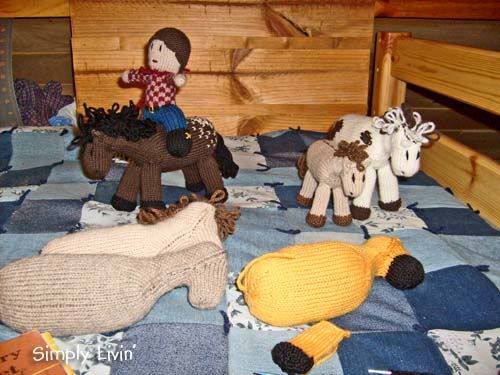 Their cute little faces tell me that I'm doing a good job!
And the fact that Donna is tenderly playing with them every time I turn my back proves they're very child appealing and friendly! I always feel so bad when I have to separate them. :(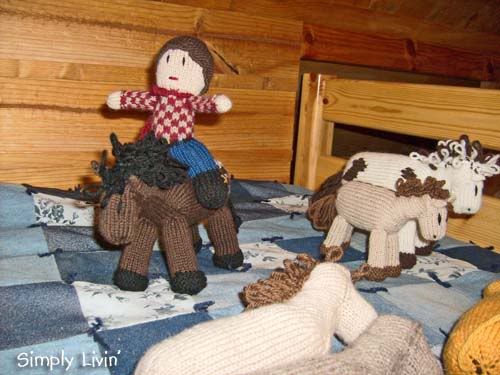 Oh, and no, I am not reading "On Cherry Street". I've already read it myself... When I was 6 or 7. It was the first book I read cover to cover and I was so proud of myself! :) Actually, Johnny is in the process of reading it aloud to me everyday while I knit or work on the computer.
I remember the stories with a touch of fondness, but Johnny's rendition is something new and special in it's own way. :)
Our shop's have been doing very well lately. I am SO happy!! :) And very thankful (tis the season you know!). I've developed a small circle of handmade friends through etsy whom I've come to love and admire, as well as a blooming passion for the natural handmade. Once you've experienced both, there simply is no comparison to the feel of cheap plastic or something real in your hands. I just love the feeling of real, natural material!
If you still have some Christmas shopping to do yet, I strongly encourage you to check out little family-run, handmade
etsy
shops for some lovely gift ideas! Of course I'm partial to the ones on my sidebar. ;)
The Vermont Branch Company
and the
Wood Garden
are two of my favorite, just wonderful little family run shops that deserve support for their wholesome genuineness! :) Also, if you're looking for exclusively natural toys you should check out
Natural Kids
. It's a collaboration of all the natural handmade toy shops on etsy and there are some really great finds on there!
Okay, I have to go; we're busy cleaning and baking for Turkey day tomorrow! :)
You all have a wonderful Thanksgiving!!! :)