Well, it's finally in the forecast. After seeing snow birds in the fields for two weeks, experiencing frosts for two months, and spending the last few days cleaning up and putting things away; it's finally predicted to snow.
The Tuesday that wasn't
tasty
this week, was spent outside preparing for the predicted white flurries. Together with the younger kids, we managed to trim the goat hooves, clean up the barnyard of bikes and buckets and organize and clean the shed, barn and lean-too, in order to put away garden tools, hoses and lawnmowers in an orderly fashion, and bring snow shovels and sleds to the front. While I'm nostalgically stacking my flower pots in the back of the shed, Johnny's ecstatically pulling forth his dusty sled. :) The youngsters enthusiasm always helps with the change of seasons! :)
Today it's sleeting out. A rain/snow/hail/messy mix. Johnny just likened it to a blizzard, but I think his is a slight exaggeration. The fire is cracking warmly in the stove, the girls are working together to get some pumpkin pies in the oven and the house is filled with the sweet chattering of happy children. :)
Dad got us a new wood burner that works amazingly well. I can't wait to start utilizing its abilities in the form of new treats and goods for our shops. The kids and I have all been having fun learning on it.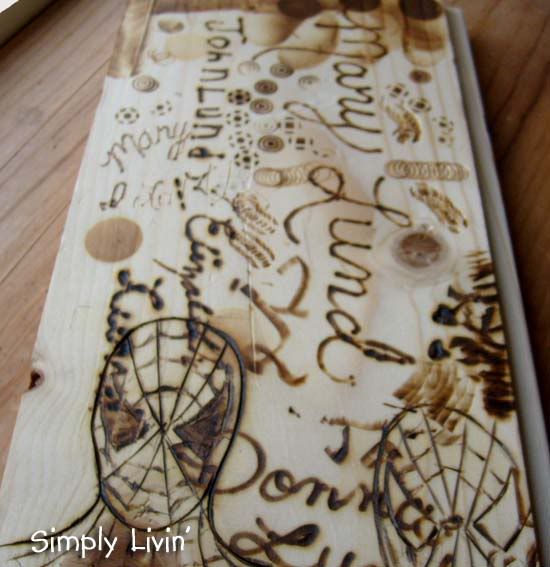 I finished my lamb yesterday.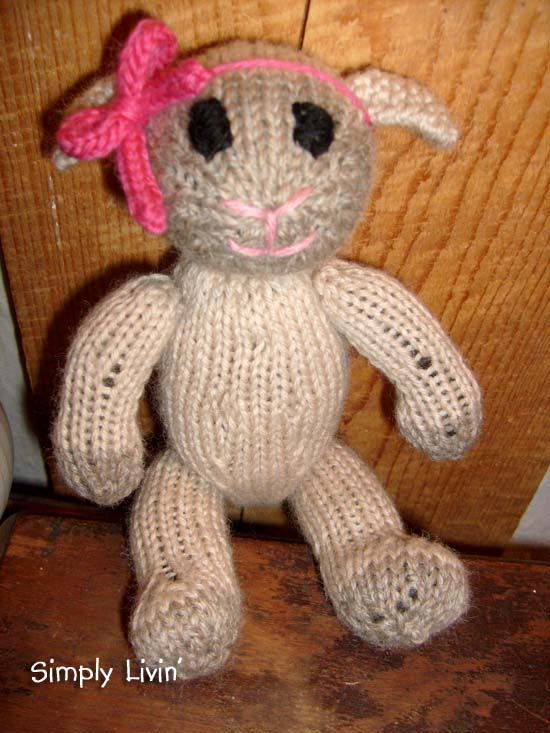 I only have one more request and then, if nothing else comes up, I'm going to be making or remaking more toys for my sweet little toy barn that I'm so proud of. :) I sold my Spider-Man doll yesterday (!!!) maybe I'll make another one so he can be ready to ship quickly and stuck in some little boy's stocking for a Christmas morning surprise!

The girls are also working on their own project toys for the barn.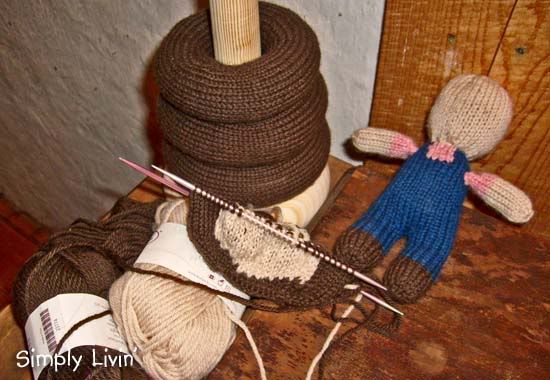 The boys have been lighting fires in the wood stove out in the shop to keep warm while they spend the day creating with their hands out there.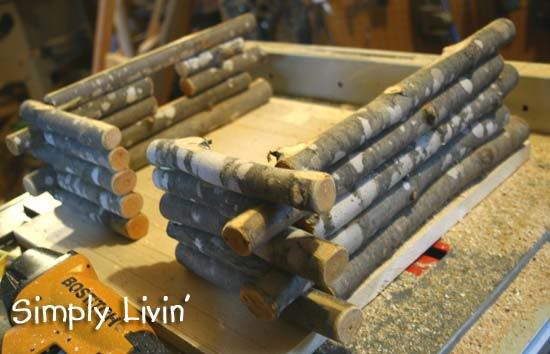 Today, Stephen is working on two adorable log cabin dollhouses for some little girls this Christmas and Michael is making some dollhouse beds and toy wooden animals on wheels.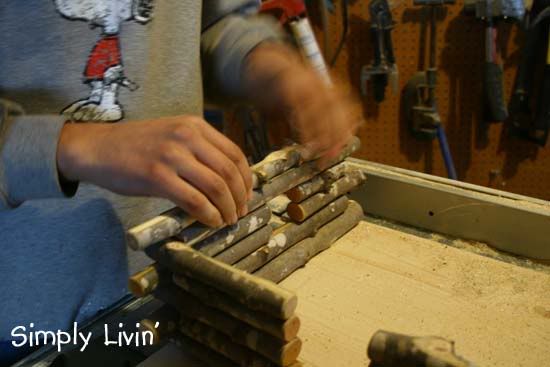 Johnny is... well, Johnny. ;)


He was great at modeling dramatically for Mike's new LOTR Aragorn Daggers.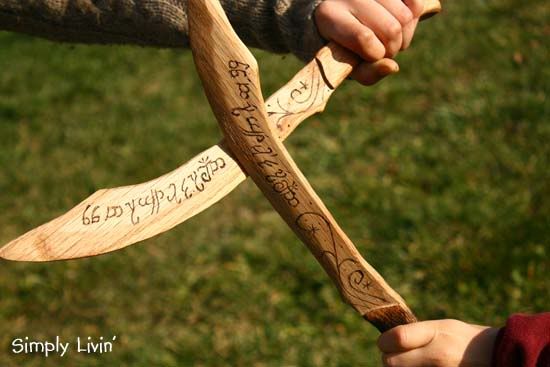 I'm going to have a much easier time with word burning those Elvish runes now!
Lizzy's passion is horses. She rides a couple of times a day, and draws them the other half of the time.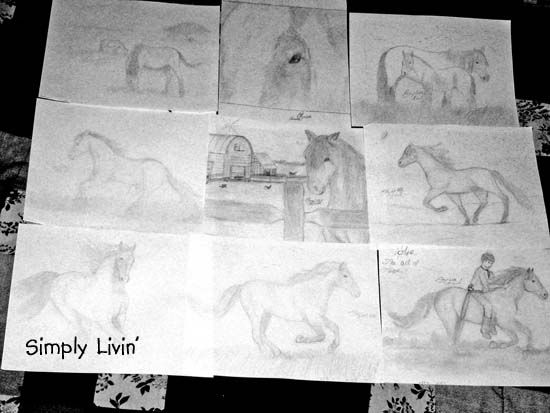 And she's GOOD at it! For her 12 years, she's very accomplished in horse art! I could (and should!) wall paper our room in her art. The stack of her horse pictures measures an inch thick!
We're also keepin' busy learning, playing and even a little writing of music. Michael is becoming very efficient on the bass, while Lizzy's piano abilities are becoming quite pleasant on the ears!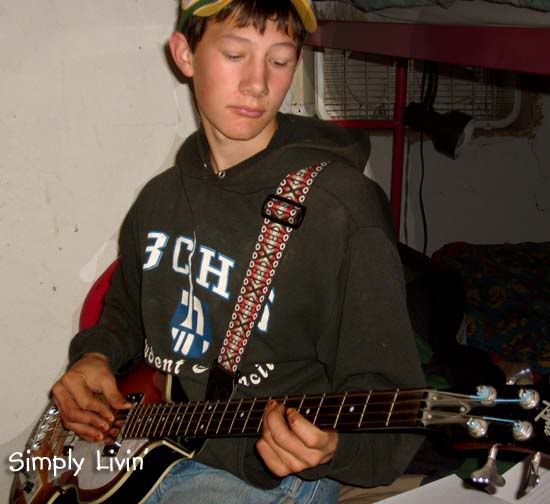 And then there's always school, too...

And of course, dollies and blocks receive a lot of daily attention as well (lucky dollies! ;).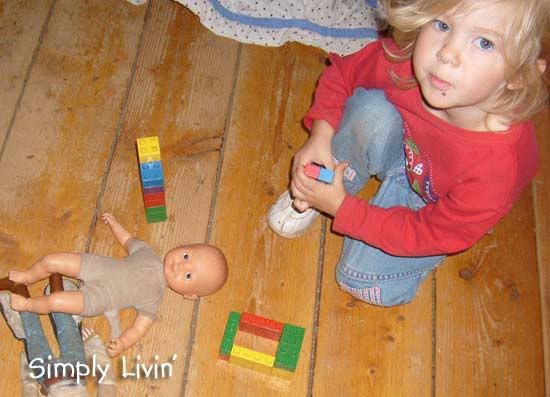 (Oh, and, shhhh, don't tell anyone, but my sewing desk looks like this:)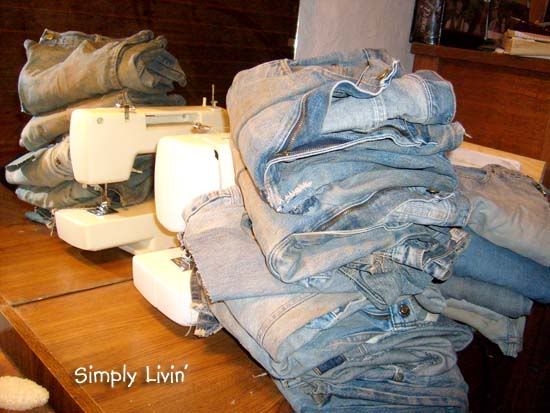 The leaning tower of dirty boys' 'need to be patched' jeans. Hmm... when did that grow there? I should probably work that pile down today before I forget that I ever had a sewing desk!

Well, the verdict from downstairs is that it's "snowing... sorta," out right now. Time to get cozy with some knitting, or busy with some chores (mending!), or bake something yummy with Donna, or get creative crafting something with Johnny, and maybe later, snuggle in an armchair with a story book and the little kids; love that! :)
TTFN; Ta, Ta, For Now! :)