Be forewarned, this is one of those 'wow' posts. The kind where you keep muttering, "wow," under your breath, in kind of an exasperated, intrigued, disgusted and amazed way.
Alright, so our latest project is, (you are reading this right)—bear fat.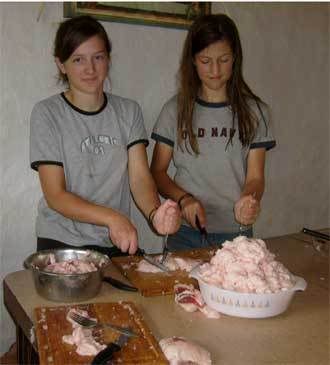 Bear fat oil is known for making awesome flaky pastries, or any deep frying, and it's wonderful for its waterproofing abilities (the Indians used it for waterproofing their canoes!). It's also supposed to make a good replacement for oil in lanterns.
The process of rendering includes cutting any pieces of meat off of the fat and then cutting raw bear fat into one inch cubes.
(These pictures didn't turn out very well, but they show how many of us were working at a time to complete this project: Me, Liz, Theresa, (2nd pic:) Dad, Annie, Andrew and (camera guy) Stephen.)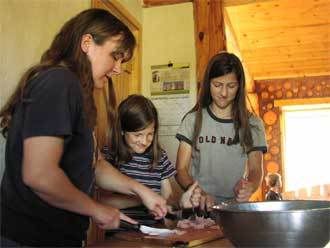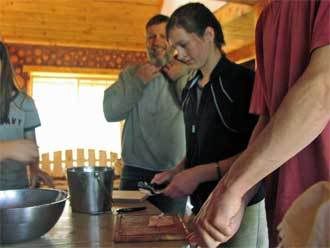 These cubes are boiled down until an oil rises on top. We ladle that off...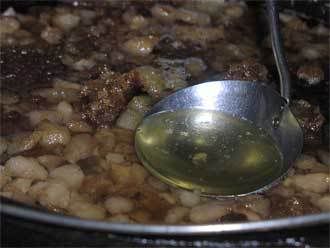 ... and strain it through a cloth and then boil it down again into pure oil.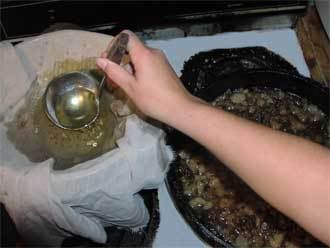 After that it's canned in sterilized quart jars, cooled, and stored away in the pantry. (It firms up at room temp.)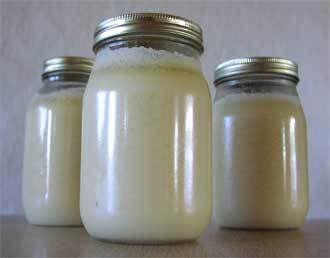 Oil is one of our biggest expenses and would be one of the hardest things to make from scratch on the homestead, so we are very grateful for the bear fat substitute.
However, the fat goes bad quickly. We all have to work hard and quickly to get it cut up and into the boilin' pots." Mom also burned a pot on the first try, and wow, the house stunk for a good few hours after that! When done right, there is positively no smell or taste in anything at any time.
We've been making the crusts for our fall apple pies with bear fat and they're very good. It made excellent grilled cheese this afternoon, too! We had one child hold out on the apple pie, after cutting bear fat all day, but the next day the little chicken caved and tasted it--admitting that there was no difference whatsoever.
When Theresa was trying to convince the chicken to taste the pie, she mistakenly said in her haste: "the fat bear pie is good!"
LOL. Wow...