Hey guys!
Yesterday, while I was doing my dishes, I was listening to Mary and John-Bob's conversation about being productive.
John: "I can't, I don't know how." So, Mary suggested that he should go spend a week in the woods alone to find food for himself and make arrows to defend himself in the woods, that way people would respect him more and trust that he can do it.
Johnny: "That would be fun!"
Mary: "You want to?"
Johnny: "Yeah, that would be fun. Besides, I know Kung Fu."
Mary: "Okay."
Johnny: "Okay."
Mary: "Okay."
Johnny: "Okay."
Mary: "Then go."
Johnny: "Can I get my blankets, food and my knife?"
Mary: "No, that would defeat the purpose. You'd have to go alone, boy!"
Johnny: "Can I bring my knife?"
Mary: "Okay."
He went upstairs to get a little pocket knife and came back down.
Johnny: "Hmm, it's smaller then I remember."
But he left anyway. Twenty minutes later, he was back wanting a bigger knife. The boys said no. :)
Poor kid.
When I finished my dishes, I got the idea to take my dog down to the cabin with a knife, 'just a knife', and make a bow and arrow down there!
First, I found a stick with nice strong bark on it to make the stretchy part on it.
Then I peeled it and took the peeled part for the bow.
Next, I put little knobs on the ends and tied the bark in the knobs so it stays.
Then for the arrow part, I took a branch that was in the bow stick and peeled it.
I sharpened the end...
I wanted to add some leaves on the end of the arrow like feathers. I took the bark that was on the stick before I peeled it and tied it around the stick and the stem of some leaves.
It's done!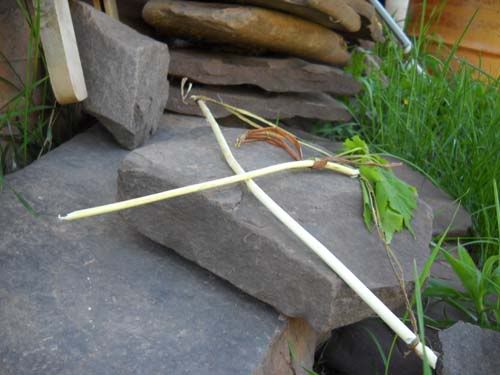 It looks cool and it was fun to make, but it doesn't shoot very far.
P.S. If you were wondering: when I came back inside Johnny was sitting on a chair in the living room. :)
Oh, and apologies for the lack of posts the last two days... we've been busy planting fruit trees and transplanting things from the green house.
Have a good day!