Hey Everyone!



Sorry for disappearing like that! Gosh. Would you just look at that lying, smiling little goat on my sidebar?! Jeeze. Maybe I should get rid of her... :) No serious worries here, though. My head was just in other places. Trying to wrap it back around to the present has been a task. I have around 74 excuses prepared, but I'm deciding to come out and just admit it: I didn't feel like it. Blogging I mean. You have to understand: when the sun is shining its full rays down on the farm and the deep blue sky is full of puffy white clouds and singing birds, how can you possibly expect me to choose between the outside tasks and spending time on the computer? My one track mind just unanimously chooses to go running outside before the dutiful other half of my mind can catch up to convince it otherwise. ;)
Hopefully all of these pictures will help you all to forgive me! :)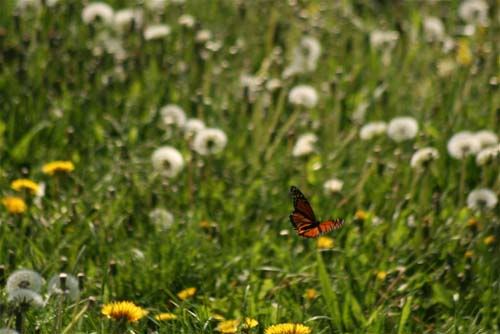 So, about those those excuses...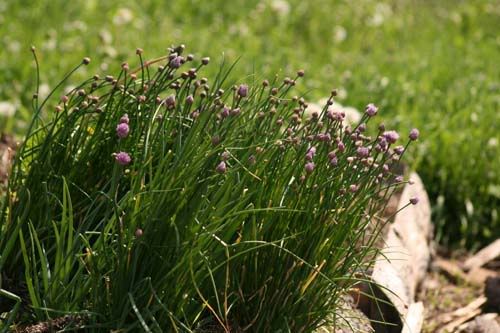 We've been taking a lot of care to get our garden in and going strong.



Keeping its considerable square footage weeded is a chore!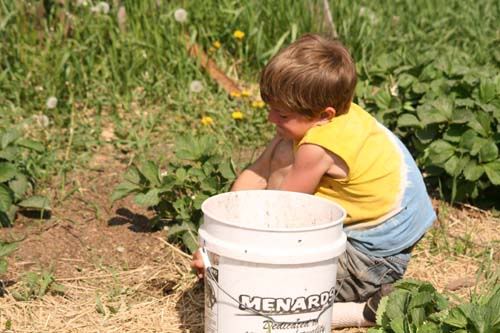 It seems like weeding strawberries is a full time job, even though it's only a piece of the garden. Now we're on to the raspberry patch and that's an overwhelmingly big job. Just one weed at a time...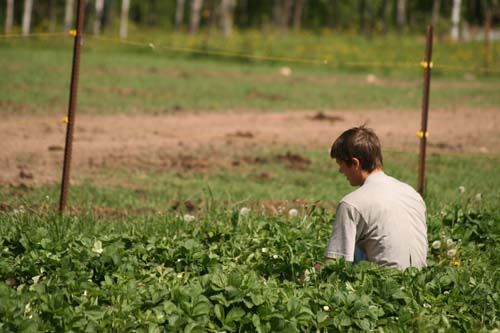 But we don't always work while in the garden...

...sometimes we go out there just to sit in the sun and watch the butterflies. ;)



Mike doesn't care for this pic. As Stephen bluntly put it: "it's a face only a big sister could love," but I do think it's really cute! Look at that dimple! :) hehee.



A random captured rooster crow.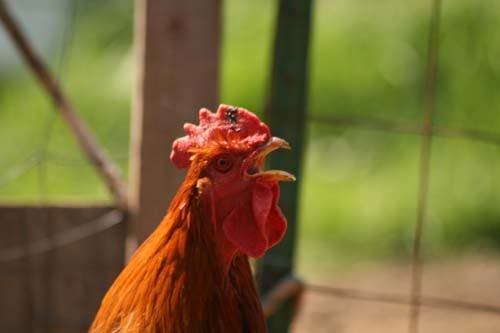 The guys have been busy doing firewood for the past week.



They have been leaving after farm chores in the morning, going out into the back pasture with the truck and working until lunchtime, coming back with an overflowing truckload of wood. Johnny's been really enjoying working with 'the guys', too. His job is stacking the load in the truck and his efficiency has yielded in huge overflowing loads. He comes back in after several hours happier than when he left and still eager to work, unloading and stacking the split wood until dusk.


The girls stack while the boys split.
With so many hands, the job of putting up all of our winter firewood was finished in less than a week. Though, we still have to get some for the shop and greenhouse stoves yet.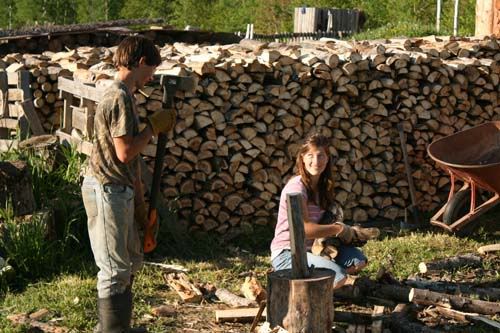 We have fun talking, singing and joking while we're stacking. It really is a much enjoyed job by all!
Dad and Donnie taking a break.



Another project was getting the sheep out on grass. We can't afford to pasture a large area, but by making them this mobile pen we can move them around the yard (and orchard if we're careful) is a good compromise and they are happy take the grass down to a manageable level for us. This was Andrew's design, but all the guys built it together.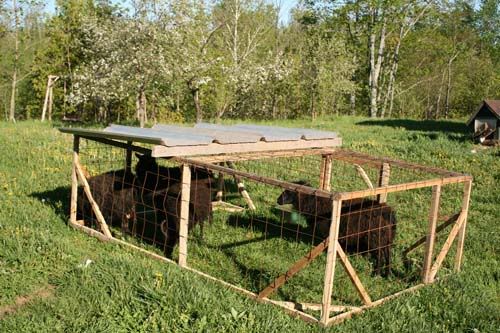 Sick of trying to manage weeds in the garden entryway, the girls and I tore out the sod and laid recycled scavenged brick down instead.



Pretty huh? This was Annie's design.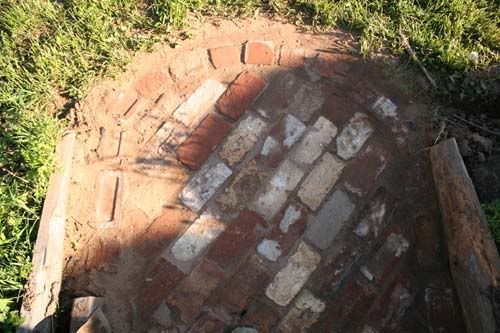 Theresa, employing Michael's muscular help, built another large raised bed for her melon starts growing in the greenhouse. Many wheelbarrows of rich soil and mulch were hauled over to complete this bed! It's no wonder my younger siblings are so in shape. :)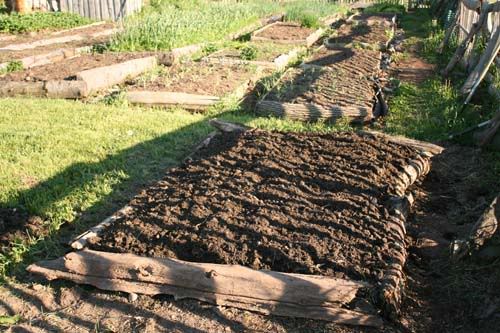 It looks like we're going to have a wonderful strawberry season!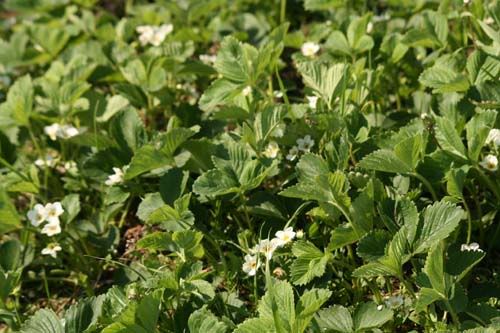 Tons of flowers are rapidly turning into strawberries, soon to be ripe. Johnny's been keeping a watchful eye for the first signs of ripening.



After three years of diligently working on them, weeding, spreading, moving transplants and watering, it looks as though they may finally offer something in return. Yay!!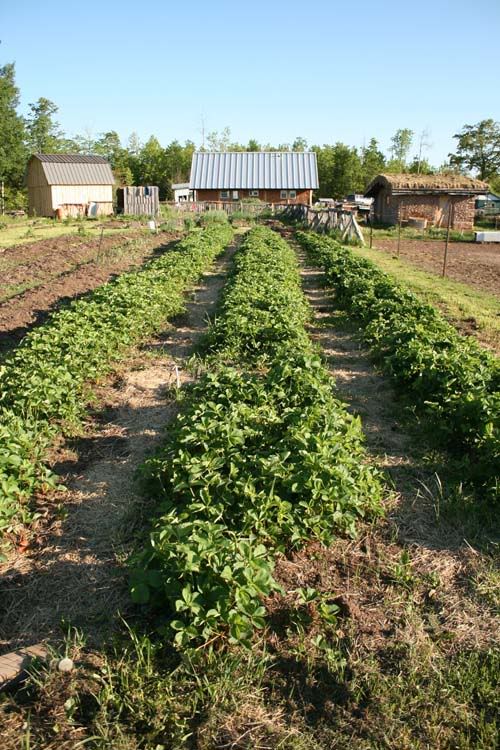 Look at those three rows (and there's more besides). Would you believe we started out with three strawberry plants?
We planted another large orchard area this year (because there is no such thing as too much fruit in this family!) They've all leafed out and appear to be doing well.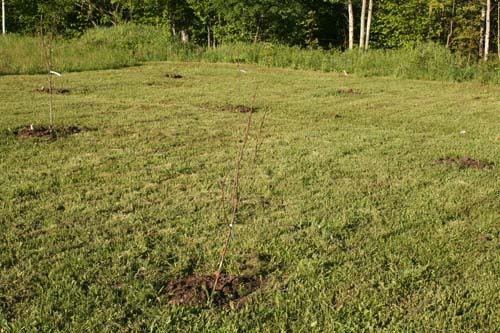 Twenty blueberry bushes, 10 more grape vines and 40 more cherry, pear and apple trees. Watering takes two days, three hours each day and I don't want to know how many gallons of water. We're always praying for rain around here!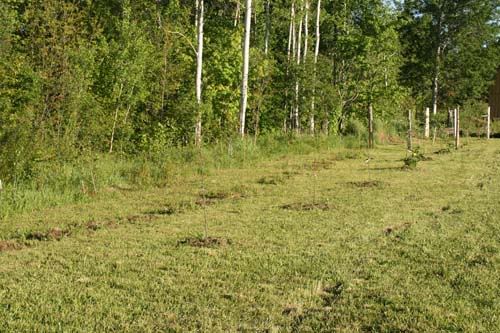 But our efforts are paying off. Everything is leafing, budding, flowering and beautiful right now!



Pole beans are up.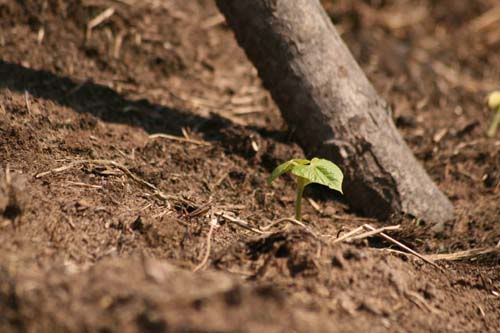 Corn is up.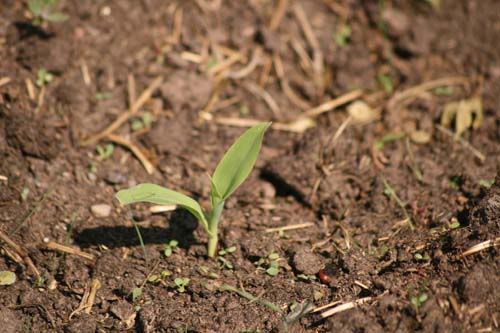 Oh, and remember those baby robins the kids found? They've feathered out as well, and the other day the kids excitedly reported that they'd hopped the nest.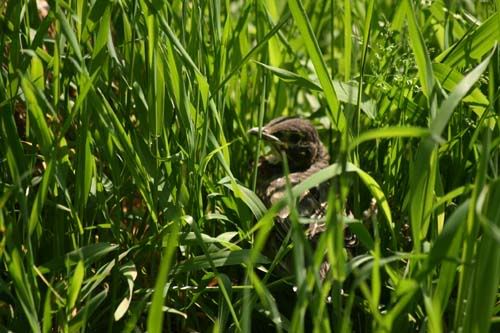 Flight lessons are still underway.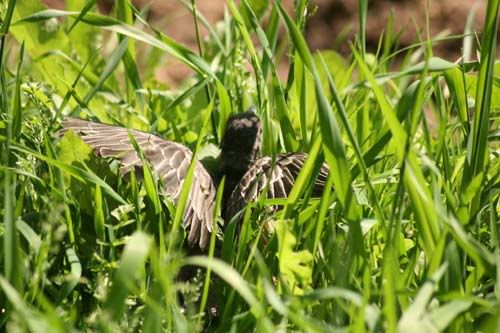 But Mom's keeping a watchful eye on them.



Aren't they cute with feathers?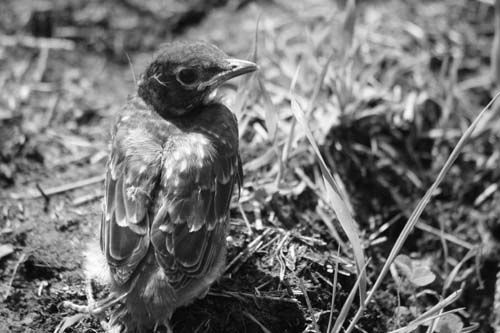 Oh, and volleyball...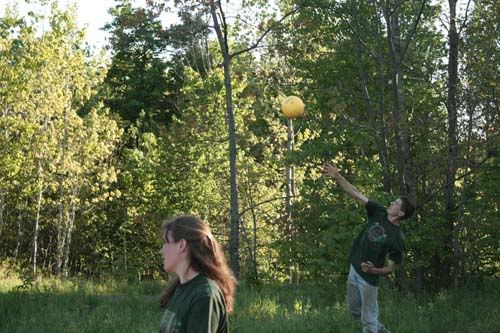 Never get tired of that.



Every night. Doesn't matter how late.



The volleyball must go on. Last night we played until ten thirty! And it was still light enough out to continue, but Mom called us in.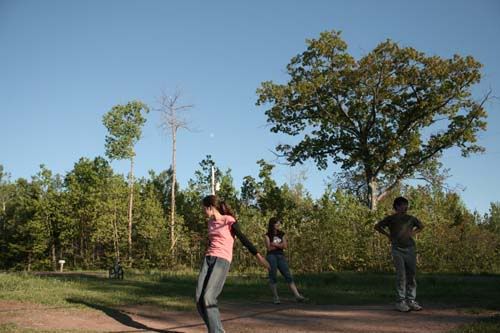 Even Johnny's getting pretty good at his serves!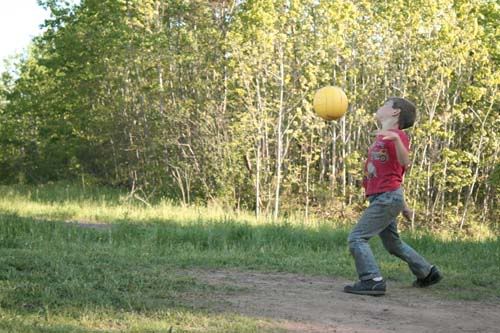 Theresa is our little volleyball dancer. :)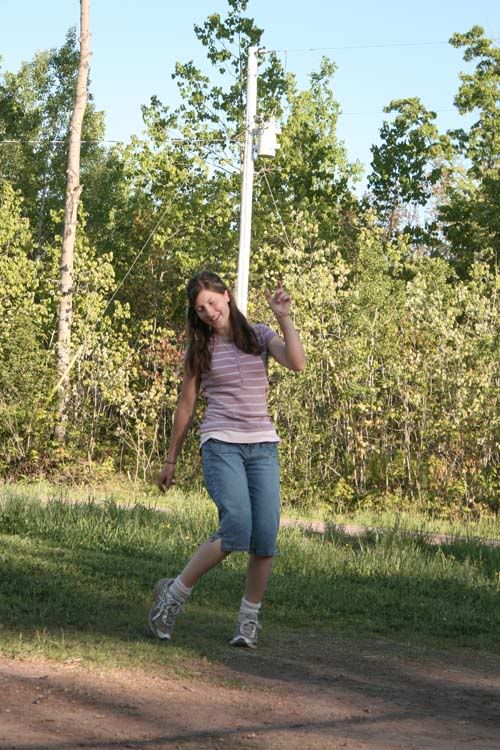 She has her victory, rotating, bored, happy and unhappy routines and they're always varying by her mood. Quite entertaining for bystanders, but don't expect that she'll do them for you if you come visit! ;) heehee.
And finishing off with some random photography from the boys...
Butterflies in the strawberries.



Catching the football.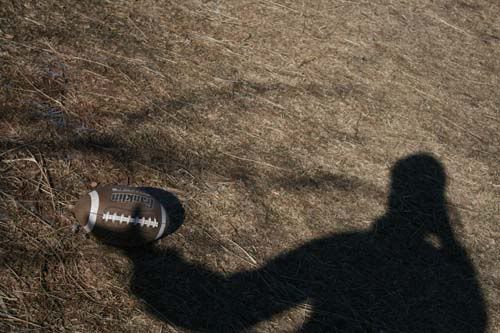 Violets in the garden.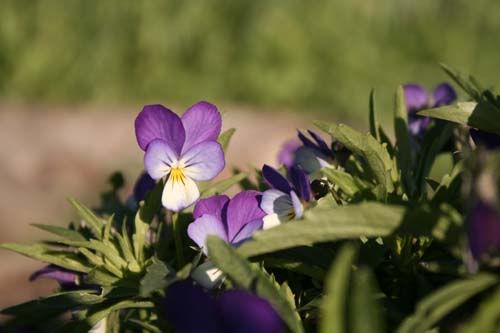 A white spotted horse.



I'm getting my flowers in and I'm very happy about it. :)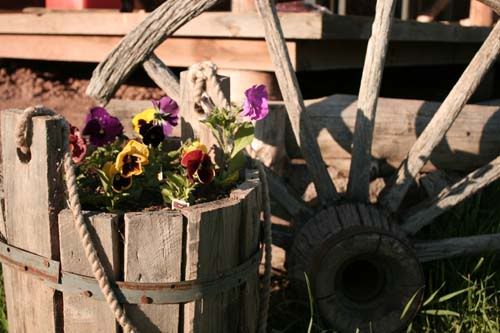 During these sunny days we've been saving money and water by turning off our hot water heater and using only the hot water from our solar shower. It is extra work, but not too bad. We can wash three big loads of dishes, a load of laundry and take about six showers on a good sunny day. Annie and I have been plunging a load of laundry outside every day. We have a pretty good system down now and it only takes about a half hour to forty five minutes depending on the load to get it washed and hung on the line and blowing in the wind and sunshine. And you feel so wonderfully accomplished when you finish! :) We've also been scrambling to keep up with the extra milk from the girls now that they've been going out on pasture. Annie and Mom take turns making cheese every other day throughout the week. That and raw cheesecake for breakfast nearly every day and a big gallon of ice cream (daily) help to keep up on the eight gallons coming in every day. Add to that, fresh garden greens, fresh eggs, warm raisin bread, buns or rolls, chocolate to sustain six females ;), and you have a really yummy, nurturing diet. The only thing we've been lacking is meat, not that we females mind, it's the guys who would like more of it, but alas, it's still walking around in the pasture. ;) Just a few months, however, and the boys will be fine! It's a great life!! :-D
Oh, and the last bit of news circulating around here lately, is that our family band: 'playtime' will be playing for our first time, for our first real audience, at a little local event this July. If any of you locals want to come see us, here's the info: http://www.facebook.com/#!/event.php?eid=190903870954028 Should be loads of fun! We're excited:) But, suffice it to say, our evening volleyball games have been in competition with our music practicing time...
Anyway, my apologies readers for neglecting this blog! I'll try to keep up, but I don't think I can promise daily's anymore, at least not as long as the summer insists on remaining as beautiful as it has begun! :) :)