Hello Again, Happy 1st of July! The U.P. has been experiencing a very rainy, cool week so far. Good for the gardens but some warmer temps would help now. Anyway, I figure it's as good a time as any for one of those long informative/boring farm updates.
In addition to our
new colt
, we had a litter of kittens born. Four black blobs of fur, all totally cute and friendly AND as a special this week only, they're a 'buy one, get second one absolutely free'! Now that's a deal!
Stephen had a broody hen sitting on a clutch of eggs for the appointed amount of time, but to everyone's dismay, on the day they were hatching the mother turned around and began eating her chicks! She killed two before Stephen intervened and rescued a chick and 3 eggs that were cheeping (ever pick up an egg and hear it cheeping at you? A frightening thing for sure!). The kids enjoyed witnessing the remaining eggs hatch under a heat lamp and now four yellow blobs of fur occupy a little box down the hallway.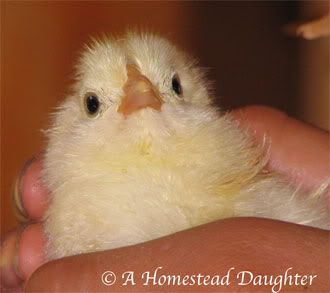 We sold our black pony, Muggur a few weeks ago. It was sad to see him go, but he went to a really good home. His sale was financially timely, thanks to our ever providential God. The kids made short movies of themselves showing off the other two ponies as a way to advertise them. They have helped considerably, as we're getting inquires about them almost daily. It's going to be sad to see them go, but we hope to decrease our horse herd considerably by the end of the year.
Here are the movies: (Recommended for those of you with fast internet (or patience
) only!
Oh, and these are two different video hosts so one may work better than the other for you).
Dynbrimi from Andrew Lund on Vimeo.
We have a horse as well as three cows that are hugely pregnant and due any day now, and a fourth cow due in Oct. We're dreaming, but we're hoping for all girls!
We're going to bottle raise the babies because we had a terrible time weaning a calf in the past. Theresa will graduate to milking a cow again, as her goat friends are getting too easy for her.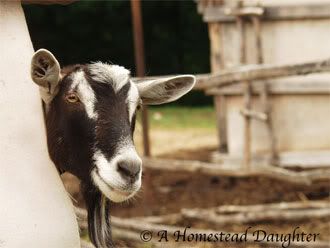 Our gardens are doing great this year, but more on that coming later...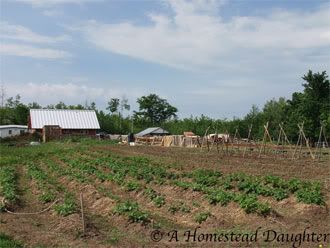 As I mentioned in my previous post, Andrew got our front porch built. It took him a day and a half, but for how Johnny anticipated it, it felt more like a week and a half!
We all really love it. With a couple of
Stephen's rocking chairs
and some flower baskets, it's totally cute and country-ish.
As some of you may know, we found out this year that my mare, Lady, is blind/going blind. She had been acting crazy for about a year prior, but the blindness just finally made itself obvious. I'm not really sure what we're going to be doing with her at this point, but I'm praying and know that God will let me know what her future will be. Here's a recent-er picture of her and I:
I can no longer take her out on rides like I did last summer (*sniff*), but I do occasionally jump on her when she's hanging out at the hay ring in her familiar and comfortable surroundings. A far cry from the fun stuff we were doing together a few years ago (like cow cutting, apple picking, trail riding), but God's will be done.
Andrew recently finished the project of making a rustic bed for some friends. It turned out great and is
another example
of some of the kind of work he'd like to do more often.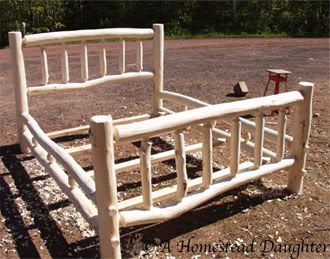 Stephen and Dad went into a competition last Sun on their photography skills. They spent the day taking pictures and at the end decided who had the best. Who do you think won?
Dad's: "Nature locked out"
Stephen's: "Funny Bunny Finds a Yummy"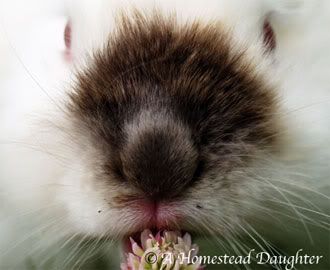 (Dad casts his vote for Bunny.
)
We went swimming in Lake Superior for the first time last week. It was one day later than when we went in last year. Stephen (of course
) brought his camera so here's a glimpse of the beauty contained around that lake.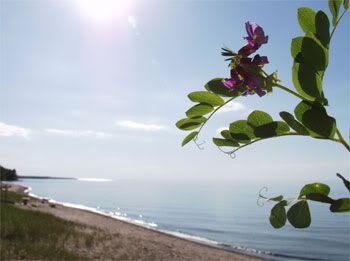 Spy any agates, quartz or other valuables?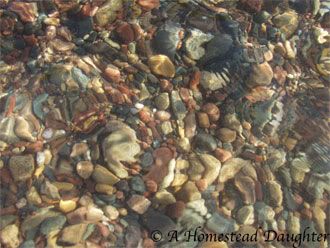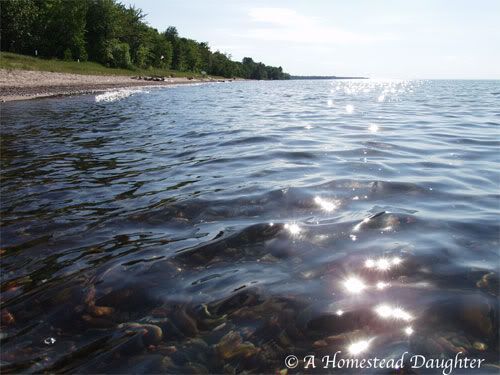 We wore our swim suits for the first time--they worked great!
Finally, got to show off some (more
) pictures of our darling!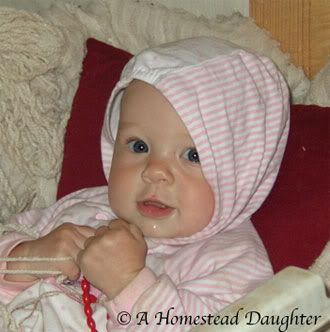 Her favorite part of a walk in the garden--eating a sweet, sun ripened strawberry!
(I know she's wearing a winter hat--this is the U.P.! LOL. Actually, Annie couldn't find her sun bonnet.)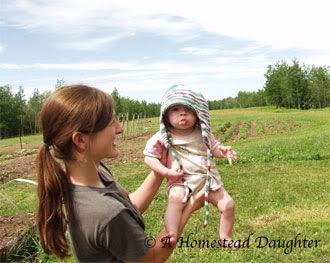 The kids found three birds' nests with babies in them around the farm this year. They've been a great source of curiosity and interest for the kids, as well as a photography opportunity for some.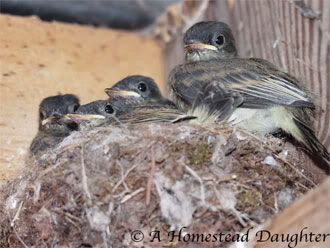 Well I think that's enough for one post, eh? Thanks for reading!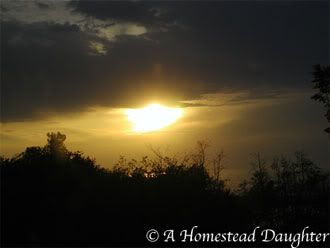 p.s. Special thanks to my photographers for all their hard work in order that I may share some of our frequently enjoyed beauty with all of you.
p.s.s. This is my 99th post! I will be doing something 'special' for my 100th, so watch out for that.