Greetings!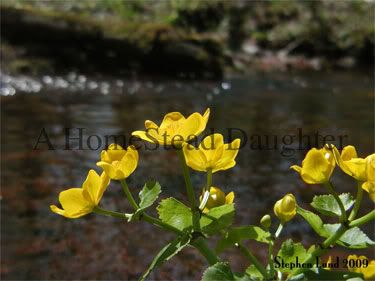 Cold, blustery and even a bit snowy (at times) weather outside my window here, has me inside thinking a blog update might be nice. Contrary to the unpleasant weather out there, I wanted something warm and friendly to post about. When browsing through Stephen's recent pictures, I noticed the creek seemed to be his latest photography interest, (well, not counting his little chipmunk friend
), and how warm and inviting that little stream is!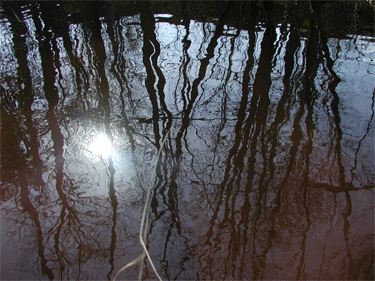 The other day Stephen came in with these two, very artistic pictures of leaves floating in the creek. Now, there's been some indecision in the household as to which one is better, especially since Stephen's been debating entering one in a contest. So, I thought I'd ask your opinions. Please cast your vote (in a comment) for either:
Leaf A...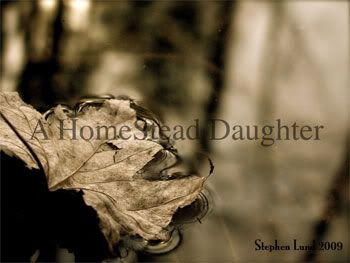 ...or Leaf B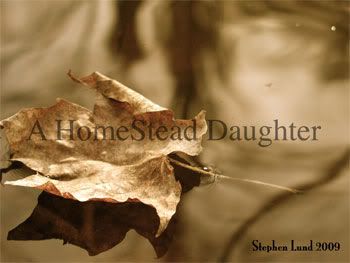 My favorite is actually the one with the yellow flowers at the top of this post. I think that one is fantastic and I just love these little flowers that line the creeks.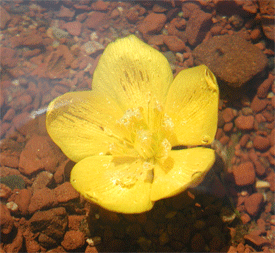 Oh, and we finished those swim suits the other day. Annie made Lizzy's and did some work on mine (she can be very determined when she sets her mind to finish a project!
)
You can buy similar suits online for around $100. We made ours out of second hand (mostly spandex) clothes from the thrift store by simply combining a shirt and skirt pattern. Our inspiration came from:
Simply Modest
The kids like to swim in the creek this time of year, on those occasional blistering hot days (okay, so it was only 75,
but that's kinda hot when you're working hard, some of us almost wilted!
) The creek is still flowing a little higher and the water is fresh out of the mountains, so there are deeper little pools that they enjoy playing in.
One of their favorite pools is just past the culvert. They like to run down the smooth-bottomed culvert and dive into the pool.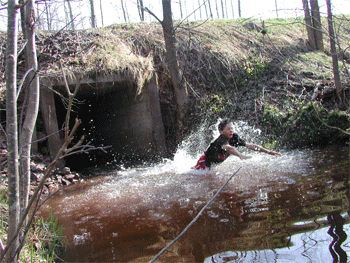 One split-second before, one split- second after. (Stephen did a cool split screen effect on these two pictures.)
I don't think the younger kids worked up a sweat enough to match the amount of time they spent down there.
(Too bad we didn't have her swim suit done yet! She can't wait to go again and try it out.)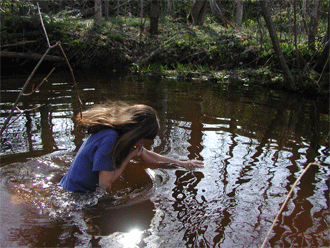 Even Donna got to dip her toes in after watching the other kids swimming for awhile.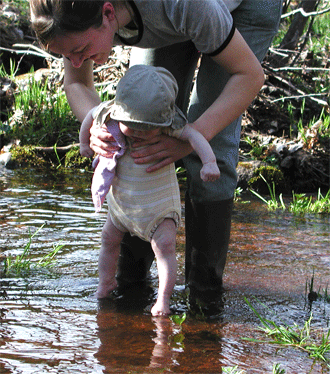 "I'm not sure I'm getting the enjoyment factor in this..."
"By the way, like my new sun hat? Now I can blend in with the yoopers!"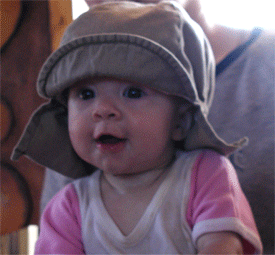 Our little princess is 5 months old today!! We have SO many adorable pictures (and videos!) of her that I could easily make a dozen posts on her, but I am actually hoping that a brother might compile them into another vid/slide for me to share instead. Perhaps if I ask really nice... or if that doesn't work I could always threaten to do it myself! haha!
Speaking of the boys, check out what they were caught doing today!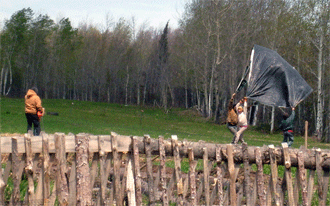 40 mile an hour wind gusts gave them the intensive to try to get air born with a tarp in the field.
I kept picturing Andrew 'flying' Michael at the end of the tarp like Winnie the Pooh flying Piglet on the blustery day!
While it wasn't enough wind to fly with, it was enough to send over a good sized tree in the ravine. When the wind calms down, we're going to go hiking and see if we can spot any other newly fallen trees.
After the boys settled back down to earth, (heehe!) they started construction on a solar shower out by the garden. So exciting!
I have to go check out their progress.
Anyway, nice visiting and happy winds-day!