Good morning family and friends!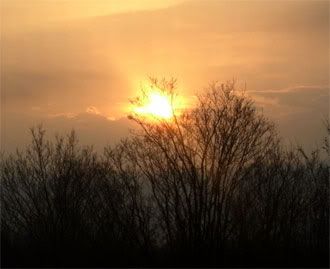 Wow, May already? The pounding rain on the roof outside makes me wonder if we are behind a month, as none of my flowers have bloomed yet. May showers bring June flowers??
Such fun times and wonderful weather we've been enjoying, where to begin? I warn you that this is a photo intensive post, as the boys have been actively pursuing their photography hobby of late.
To start we have some pony play that is starting to progress to progress! The kids daily playtime with their ponies is starting to pay off in the form of well behaving, happy ponies. Lately, they've been photographing (and video taping) their progress for advertising purposes. It's sad to think of selling these guys! Anyway, hence all the pictures.
Theresa and Muggur have been enjoying their rides in the pasture and are now starting to run in different gaits.
He's such a calm and easy going guy!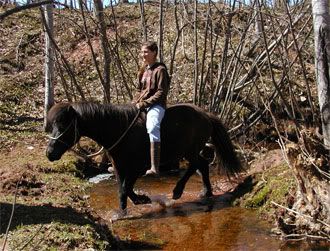 With Lena being heavily pregnant, Theresa has been spending all of her time on the other boys and as a result, they're becoming as sweet and fun as Lena.
Stephen has been able to match Duke's rather high spirited personality with enough playfulness and interest to keep his attention perked, while still keeping his position of leadership in order. After finding out that Duke loves to jump, they have been having all kinds of fun wherever a creek or log is to be had.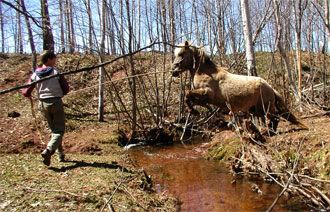 The kids must have thought that the ponies made barrel jumping look like fun, as they all had to try it out themselves.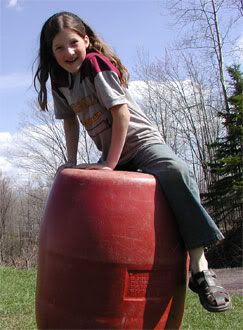 The other night I was playing in the front yard with the little kids when I was excitedly informed of the presence of a 'creature' in the back pasture. This is always cause for some fun, especially if the creature is unidentifiable. In this case there was disagreement as to whether or not this guy was/is a coyote or wolf pup. Whaddya think?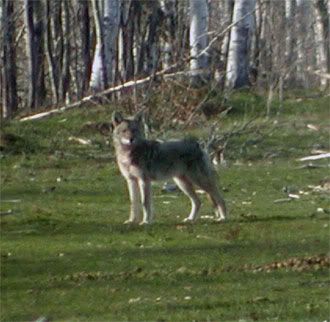 Stephen and Michael like to go hunting in the woods looking for stuff to shoot. Yesterday's hunt found a chipmunk.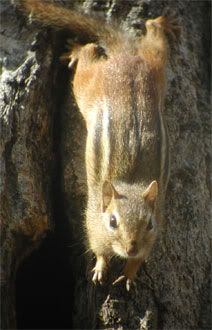 Their sisters were all very grateful that they only "shot" it with a camera and then let it on its merry way.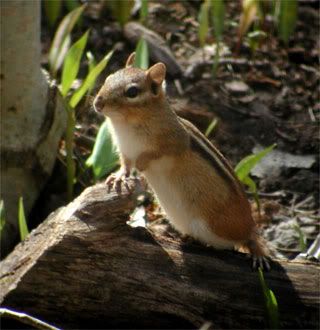 They also had to shoot a little waterfall in the creek to see what that would look like frozen midstream.
On their way out to the woods they caught Lizzy taking a nap with the mule.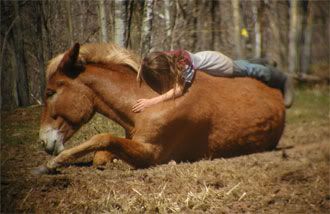 The kids have found that there are a lot of lazy animals around the barnyard that make good seats. (Ol' Buttercup's sheddin' out her winter coat again.)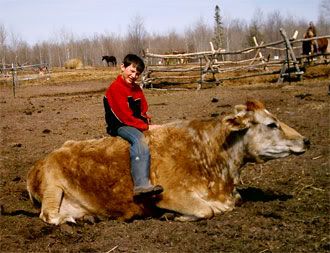 (I have to add that this is Johnny's first picture that I've used on the blog. He was very excited to hear that I was going to share it!
)
Some advice for parents--if you want a good back in your old age....
...don't let you children walk all over you...
Donnie has been working on developing her own sweet personality, of late.
She's pure sweetness to the whole family.
Spring chores are still building up our winter-soft muscles. The other evening found the whole family out working in the back garden. Dad and the boys were working on digging out and building more beds, Mom was picking wild edibles, the little kids and I were weeding and Annie was walking about with Donnie, showing her all the progress. Sweet times. The evening still provides the most laughter though, with all the various entertainment activities we have to engage in... while the sun is slowly setting...