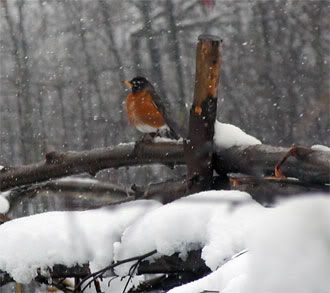 Hello everyone. Sorry, I didn't mean to disappear like that! We've been outside a lot enjoying warm spring weather. Then, suddenly on Mon. we got a snow storm which had us all inside fighting depression, LOL! Yesterday we made swimming suits to try to keep our minds off the blowing snow outside.
Anyway, today I decided I needed to update while there's nothing happening outside to distract me.
Holy Week this year was very relaxed and casual.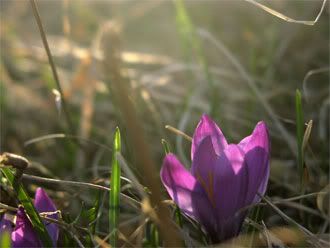 Despite our late night attendance of the Easter Vigil mass Sat. night, we made it to the Easter morning Mass with time to spare! Easter morning Mass thrills me like no other service. You can just feel the presence of tons of giddy little angels filling the church. Donna was a total button, sitting on Mom's lap in her little white Easter bonnet. We received many kind comments on our sweet little darling baby, to which we just had to sigh and agree. "Yeah, I know, she's adorable... What's a'body to do?"
The boys had the privilege of serving for the Mass and I must say, I thought they looked very nice up on the altar together--a matched set. And Johnny was very handsome in his little black suit and tie (first time wearing a suit--very exciting!
).
We had a delicious brunch when we got home, with plenty of good food, desert and our traditional dried fruit treats. Later, we had some friends over for awhile and the kids had a fun little Easter egg hunt. Then, from about five o'clock to dusk we played in the back field. Mom and Dad took Donnie for a stroller walk down the road. Though, if they had wanted a nice quiet walk I think they would have had to go pretty far.
I do believe we make enough noise for a family twice our size at times. We played two games of football against the boys (to which we girls lost both times, 10-4 and 7-3. Eek, we're out of practice! but then, it would embarrass them so bad if we ever did beat them... we would simply have to revel for weeks afterward!
) After that we just played around...
While the boys had fun tackling each other over and over again, we girls practiced silly stuff like cartwheels, flips and different ways to quickly mount a piggy back ride on one another. The night was beautiful and we exerted ourselves until our sides ached, or was it all the laughing? I'd been checking my spring flower bed daily for a sign that spring truly was here. Well, on Easter a lone little yellow flower bloomed. It was so cute and I just had to grin to myself when I saw it. Someone upstairs must be aware of my love for flowers.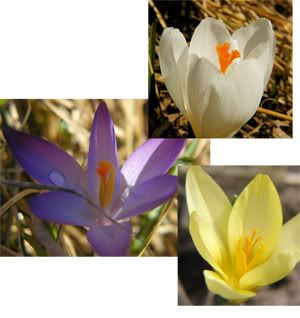 Now, several more little purple and white flowers have added to the scene. We had our baby lambs born over the Easter weekend, too. Three little black bouncin' balls of hair. Two were born real easy, but the last one I had to help and finally pull the poor thing out. Thankfully, she came around and is just as bouncy as the rest. We have one boy and two girls.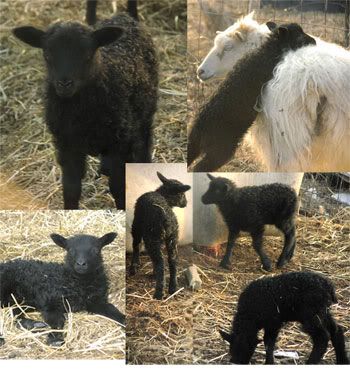 Any name suggestions?
We had a very productive Easter week with really beautiful weather. We finished cooking down the last of our deeelicous maple syrup. A total of six gallons which is enough for us to have a syrup meal once a week for a whole year (!!).
The guys dug out, cleaned up and set up the bee hives. The fuzzy little creatures arrived on Sat. night and Andrew installed them yesterday.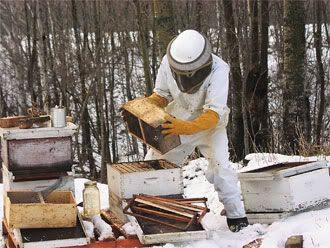 I sheared Danny (our ram) on Tue. He lived, lol! Theresa also got all her rabbits sheared last week. Andrew's been working on an old plow he found in a junk pile. He made handles for it. We've been doing a lot of work with horses, too.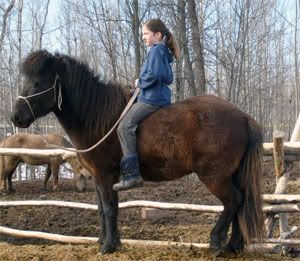 Jumping the creek.
I'm working with the mule in hopes that she'll be ready to plow our field this spring (this will be very interesting...). I also got my mare's hooves trimmed. Her feet are soo hard! A big difference from those little pony feet. I'm also working on getting the filly ready for her first trim. We got fences built, more garden beds made, and a lot of yard work done. The guys also finished installing the cabin floor the other day (a cabin update post is in the works). The kids already got the volley ball and badminton nets up for evening play. (Though my favorite thing about evenings is the sky!)
We managed to spread a few loads of manure on what will be our new garden field this year before the storm came and it got wet again. It was surprisingly hot while we worked on that chore and not two days later it was snowing! We got about four inches. (Very blue skys after the storm passed.)
It's okay though, because we have warm weather coming later this week and we really needed the moisture in the earth. It was dry for spring this year and rain tends to run right off our clay soil so melting snow is actually ideal... but I'm still working to convince myself of that. Once I've smelled spring there's no turning back. Now when I go outside it smells like Christmas!
I feel like going to bed until the grass comes back again. But making swim suits and planning garden beds certainly helps to keep the hopes for spring high. Mom ordered a ton of seed and we've been planning and plotting where everything should go. The girls' swim suits turned out really nice, I think.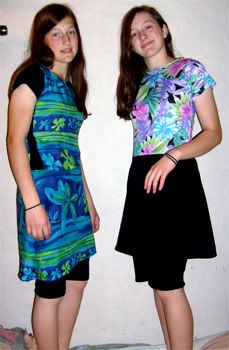 I have yet to make mine and Lizzy's (ran out of spandex material and need to make a run to the thrift store to get some). Donnie is growing like a weed. Every morning there's a declaration from somebody that she's grown since yesterday. Her gurgles and squeaks are starting to sound more like giggles and belly laughs when someone gets her going. It's so cute! She'd been really enjoying the warm outdoors and animals before the snow came. Going for a walk with Annie in the carrier.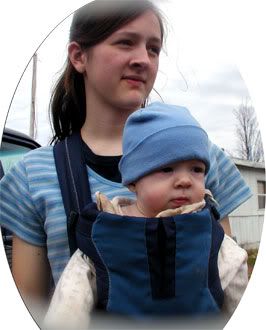 "Come here, titty titty,"
Donna loves kitties. She loves to pet them... (isn't that precious?!)
...She loves to get kissies from them...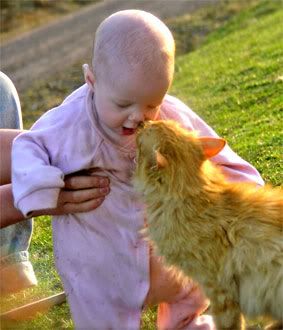 ...But most of all she loves to sit on them!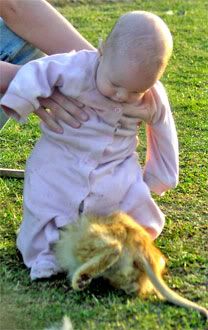 Isn't it funny how, if a cat crawls under a babies legs, their first reaction is to
sit down?!
LOL!
Anyway, that's about it...
God bless you all!