Snowy salutations from the great white U.P.! It seems like we've seen the sun a lot more this winter than previous years. It's beautiful from inside but can be blinding when working or playing outside. Not complaining though! We usually don't see that orange globe much at all this time of year.
As you could see in my last post, we are getting quite a bit of snow this year. The girls and Johnny took a hike into the woods about a week or so ago and they came back exhausted, telling stories of claustrophobic surroundings due to waist deep snow on all sides. It would have been neck deep on Johnny (who was following in their wake) except he was the envy of everyone by his ability to walk on the crusty middle layer of snow.
We did have some trouble this year with our animal fences disappearing. The guys tried to shovel them back out, but it was rather ridiculous... Like a mini mote before the buried fence line. Thankfully, the horses are suckers for a bale of hay and, as long as they have one, they have no reason to leave. April, the mule, however, has decided to switch pastures to be with the mares.
She ignored our suggestion that she stay with the ponies (a four foot fence with wire around the top) and has taken up residence with the mares, insisting that they have better accommodations than the ponies. (Though, this morning she wanted to come back in when the ponies got a fresh bale of hay, so the guys let her in through the gate before she demonstrated her graceful leap again.)
Other farm news is that the end is near for our bull, and the age of beef steak and hamburgers is arising for the freezer... which is something the menfolk can look forward to. I think us ladies would just as soon be vegetarians.
Speaking of the guys, they've been busy producing things out of their shop. Dad is learning to make kitchen utensils on the lathe; Andrew made a lovely, rustic night stand and is now working on matching end tables for the living room; Stephen made a rustic log cabin bird house and is almost done with a cute plaque; and Michael made a toy truck and a few bird feeders.
We girls are kept busy with babysitting and ordinary domestic chores around the house. Here's Theresa babysitting Donna and our little neighbor friend at nap time: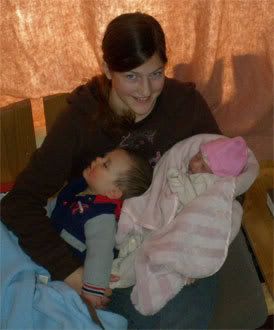 Theresa and I finished the top of one of the curtains, but still have a lot to do yet on it. I've also been making various quilt squares which may be couch pillows or an addition to that 'someday quilt' stack of quilt blocks. I know Annie has been finishing up some stories on her laptop in her free time. Theresa has some crochet projects she's working on. I also got her to practice her spinning the other night (she's better than she admits at it).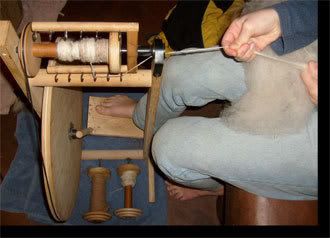 We onlookers had fun while she and the spinning wheel had a battle of wills (spinning wheel lost... of course
).
Lizzy has been expounding her crotchet skills with the help of Theresa, making little things for her doll house, or things to wear in her hair, etc. She's also enjoying the pros and cons of being a big sister, such as diaper changing and getting the first smiles out of our rather serious newborn.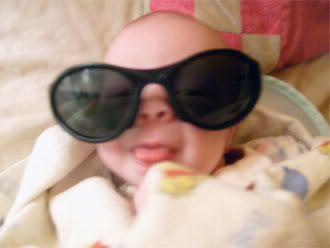 Johnny has been diligently attacking his school work everyday. He's learning to read and he loves it. The other day I was doing his phonics lesson with him, and, as he was nearly finishing a page, he asked: "Do I have to do one or two pages today?" I answered, "Sometimes Mom would make us do two..." (this is the same very worn phonics book that we all learned to read on). He said, "Oh, well Mary, can you make me do two today?"
He is also my little right hand around the house for all those small general 'right hand' tasks. He's suddenly got this infatuation with roses, too (must be all those pretty seed catalogues coming in). He's just dying to plant red roses in the front yard as soon as the snow is gone. I hope I can fill his longing... we'll see.
As for little Donna...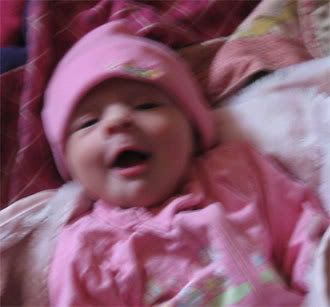 (I know, her first smile and it's blurry.
Our camera lady was laughing.)
She was seven weeks old last Tues.! Where does the time go? She's also up a pound from her birth weight. She's now almost the normal birth weight of one of Mom's babies. At birth she was a feather at 7.7oz (compared to Johnny, who was 11.6oz.).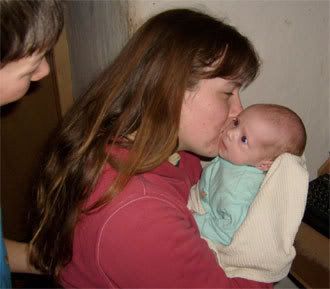 We've unanimously and very biasedly voted Donna Marie as 'cutest baby ever'. You would too if you ever got a chance to hold her when she's in one of her precious moods.
Her nick names have pretty much settled down to: sweetie, (mostly given by Mom and Dad), precious princess, (my most common) peanut, monkey and bug (Annie and Theresa's most common), though we all share in a variety of her nick names. Momma and baby both doin' good!
The kids enjoyed a sudden warm up a few nights ago. I think our thermometer read 40'. They were all outside playing football in their tee shirts (and they think I'm the weird one preferring to sit inside and cuddle the baby!). As they were hoping, they got to see the snow come off the roof. A loud rumble and a whoosh and we suddenly have a 5ft. pile of snow in front of the house! Then the boys gotta' get their shovels out again and dig us (another) little path (even though they insist climbing over the snow pile to get out is more entertaining than just walking down a neatly shoveled path).
So evenings are either football, sledding (some spotlights in the front yard help with these activities), music making, or board games.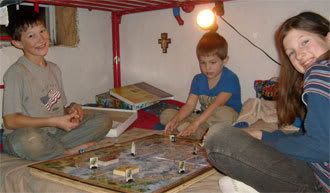 We're staying warm... still have plenty of firewood. Eating good. Just finishing up the last squash and pumpkins from last year's garden. Animals are all doing good too--they're so cute in their fuzzy winter coats!
Enjoying life... awaiting spring, but not pining too badly for it. It's definitely my favorite season, but I don't want to miss my winter either. Spring means a lot of work, so I'm content to get cozy and hibernate with my sewing or knitting for now. Besides, we still have a lot of planning, learning and preparing to do in order to properly welcome that joyous season of new life.
For now we just wait, sigh, ponder, plan and enjoy.....