Just thought I'd pop in and share some of our Christmas preparations this year!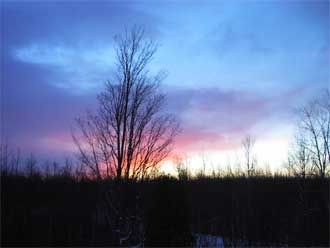 We picked our Kris Kringle's (a.k.a: Secret Santa's) at the beginning of Advent. This is how we do our gift giving every year as a family. It's always interesting to see the kids' talents and hobbies coming out in their gifts. For instance, last year our young author gave her Kris Kringle his own book (around 40 pages) complete with dedication to him. The one of us who loves to sew made her Kris Kringle a personalized long sleeved shirt. Our carpenter made his Kris Kringle a hope chest that she had been wanting for a long time.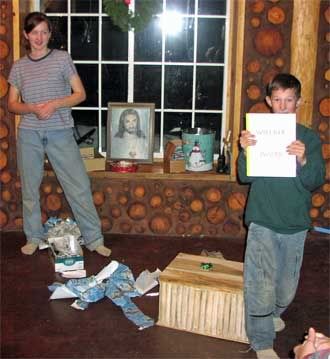 Christmas '07. Michael, his book, and sister author. Theresa's hope chest on the floor.


Of course, the younger kids can't make as nice of gifts (and often stress Dad out by going to him on Christmas Eve and saying "I can't think of anything for my Kris Kringle"). But, we always find their gifts just as nice because they're often their very first projects, whether it be a little wooden cross, or a tediously hand stitched pencil box. Sometimes, Dad will buy a couple board games and I love to make gifts for everyone, so I've done that in years past, too. That's about it. Almost no money spent and yet we enjoy it every bit as much as we did years ago when Dad would fill the bottom of the tree with presents. In fact, I might have to say I like it more - to see all the kids excited and enjoying the giving of their handmade gifts just as much as the receiving of others hard worked on treasures.
Advent preparations are being played out all through the house. The little stable is being filled with warm straw and Mary and Joseph only have one more ledge to stop at before making it there! Our advent wreath is a little pitiful this year... I cut down two tall, white, table candles and tied purple and pink ribbons on them. I didn't get a wreath made on the metal ring this year. Just too much else to do. On one Sunday night however, I snuck up to my room and made a long paper chain with purple and pink links leading all the way up a white one (Christmas day). Inside each link I wrote a little activity. So, every morning the kids cut off one link and have to do whatever it says that day. Make an ornament, Christmas card, paper snowflake, etc.
With a foot of snow on the ground outside, the boys finished their final (for real this time!) pickup shot for their
Indiana John
spoof. Visit their blog to see how production is going over there. (Note: you can see my purple chain in the background.)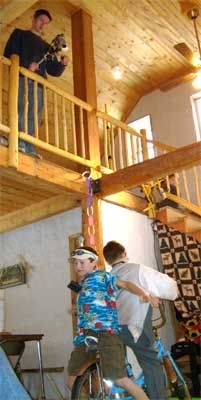 Yesterday we made 3D paper snowflakes and hung them in the upstairs windows: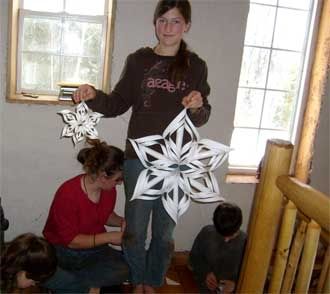 Thank you
Mrs. Burrell, for posting the wonderful, clear
instructions
on your blog!!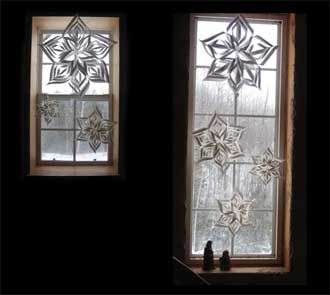 We plan to make this
printable Nativity
today. It looks like fun!
Christmas carols are raising the roof being both sung and played almost constantly, (I hope to be able to share some of our (pitiful
) arrangements with you!).
Mom is starting to feel like a watched pot as we're all anxiously awaiting our new sibling. Her due date was Dec. 6th, so any day now would be good!
Everybody is set up for a warm winter, with plentiful shelter, food and water. We're more prepared for winter this year than any other, so, let it snow!!
Hope you are all enjoying preparing for Christmas!
Oh, and Happy Big 5-"O" Dear Daddio!!! (Today).