A gorgeous glance out my window. Yes, fall is definitely here...


Well, life is drifting on, like one of those gold leaves floating across our back pasture. The days and nights are getting steadily cooler and trees more bare, reminding us of what's around the corner. We had our first chance for snow on Friday night.
"Flurries likely, mixed with rain."
They may have gotten it further south from us (and the lake), but we didn't notice any here.
We're having a rainy, cool fall. On rainy days we're sitting in our loft bedroom stitching on the quilted curtains that will (hopefully) be insulating our living room windows, come winter. It's a cozy time to visit, hang out, tell stories and do school while the rain pours down on the windowpane outside.
Dad and Andrew spent the rainy days clearing out the garage so they can continue some of their work out there during the winter. Andrew pulled out the old wood cookstove (that was left in the garage when we bought the place) and took it apart--cleaning and assessing it as he did so. When the sun shone near the end of a rainy day, he climbed up on the garage roof and took down the old chimney. We are going to attempt to use the stove to heat the garage through the winter so Dad and the boys can work out there. It will be interesting to play around with using a wood cookstove. I find them adorable, fascinating and they scream out "self-sufficiency." I would take one over a new car (or something such-like) any day.
The next day was sunny so the poor stove was left, torn apart and alone in the semi-clean garage while Andrew worked on the cabin and Dad and the boys worked on getting another 2 cords of wood for the garage heating.
Andrew's working on the gable ends on the cabin.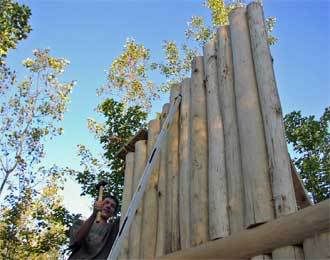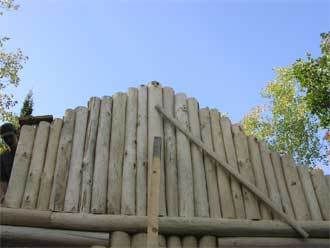 It's really peaceful out at the cabin site, especially now with the fall colors. This picture was taken at the cabin site at dusk when the sunlight was just nicking the tops of the trees.
We got our first frost last night, but have been covering the garden the past few nights just to be sure. The kids transplanted some big tomato plants into 5 gallon buckets to (try to) keep inside a little longer. They also got some of Mom's frequently used kitchen herbs and transplanted them.
We're still finding time (and energy!) to play football in the evenings, though we all look forward to Sunday's where we can play in the afternoon without hurrying to beat the darkness. The games get quite... interesting after the sun goes down.
Even though we don't participate with Halloween, we couldn't pass up this cheap Spidey costume at the thrift store. A certain 5yr. would live in it, if I didn't make him take it off every once in awhile and insist he stop 'squirting webbing' and start writing his alphabet for me.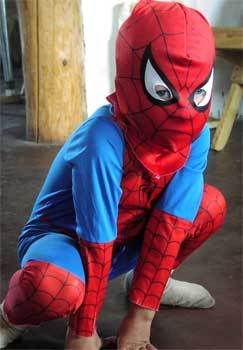 Stephen, (who can be a little too self-congratulatory at times
) said, "I did a good job taking those pictures, they make him look a lot better than he does wearing that suit!"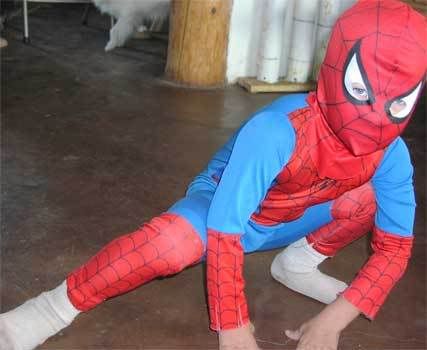 Mild mannered Peter Parker.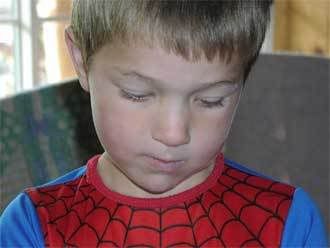 Our horses are getting their winter coats already. They're thick this year, which means a cold winter. Theresa and I went on a pony ride last night, and Lena felt taller with the extra hair between her and me. I love to go and snuggle in Lady's fuzzy, soft, warm back while she eats at the hay ring.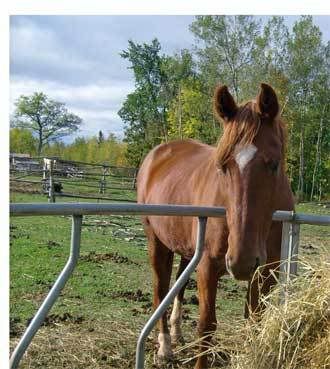 Our wittle bwack bull Buddy graduated into the bigger pasture a few days ago. He is definitely bottom wrung animal out there. Even his own Mama disowned him,
and Frysta is mean to him, in a curious kind of way.
We try not to be too friendly to him, because there's nothing more dangerous than a people friendly bull cow.
But it's hard...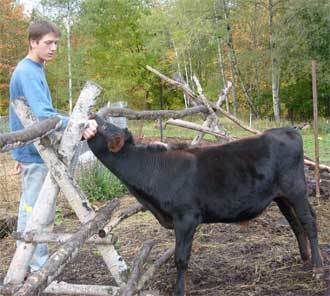 A few days ago, we were sitting around the table enjoying lunch and somehow the topic of facial hair came up.
The menfolk in our family have never been quick to sprout hair on their jaws, but regardless, the younger boys were planning exactly what they would grow. It was decided that Stephen would look best with just a mustache, whereas Johnny wanted a full beard, "like Dad's" and Michael wanted long sideburns with maybe a little something under his nose.
I was having a hard time eating at this point! However, they're going to have to wait awhile... Andrew, almost 19, still hasn't had to shave yet and I prefer it that way.
We're still gathering apples, though the apple pie intake has slowed down. I don't know whether it was the kids getting their fill of them or the girls getting sick of making them, but, regardless, we're just eating them raw, ripe and crisp now! The other day, Theresa, Johnny and I went down into the ravine where Theresa climbed our favorite apple tree. It grows out at an angle slightly over the creek. There were plump yellow apples drifting in the creek, pleasant as you please. Johnny and I had to be careful gathering the windfalls because Theresa was making such a ruckus up in the tree that apples were falling left and right. Eventually, we got our treasure back up the ravine and to the house where we presented Mama with the biggest, prettiest apple in the bushel, a tradition when we go out picking.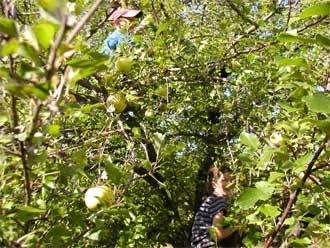 Annie has joined me in knitting the boys winter socks. We trade off stitching on our curtain blocks and knitting. Annie was privileged with the honor of our first pure white ball of yarn for her first pair of socks (I'm still on brown balls). These are winter farm chore socks for Stephen (white) and Andrew (brown).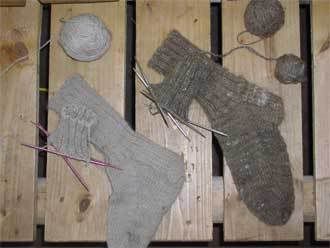 We are getting gorgeous fall evening skies overhead as we're playing our football games. I really feel amazed and spoiled sometimes.
Anyway, this post has gotten away from me again--kind of like Johnny running after a leaf in the driveway and ending up down the road by the creek beds.
So, I'll end now, sharing this 'sigh' picture with you: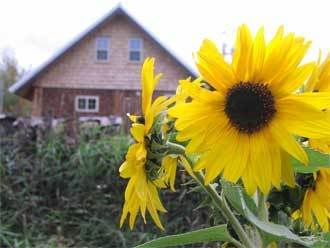 Sigh....