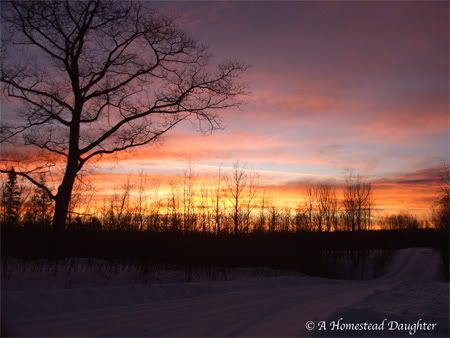 Hey Everyone!
I'm back, though I can't promise I'll be blogging as often this time o'round, as I've been really enjoying my extra time with the family. So, what's gone on around here since the first of the year?
Well, nothing astounding, yet nothing boring has been taking place. The days are filled with homesteading projects, crafts and chores, and some schooling for the younger kids. As well as the essentials: praying, eating, cleaning and sledding.
The crafts and projects vary a lot, so it's hard to say exactly what we've been up to, but for an example, this morning I trimmed hooves, and later I might process apples from the root cellar and I have some work to accomplish on the living room curtains. Andrew's recent project of three days, was a new rustic couch for the living room. It turned out beautiful! (Love the little moose!)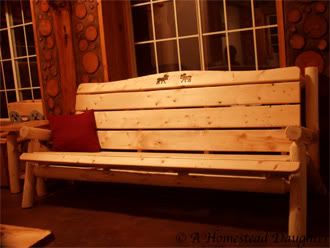 Now I'm going to be making cushions for it. And Annie, for example, might make soap today and has been working on a glove/mitten pattern that will work for the boys farm chores in the winter. She's making excellent progress, I'm so excited! Stephen has taken over the overseeing of the animals. Some days he's got to repair fences or roll out round bales to the animals with Michael's help, as well as all his work in the shop, that he and Michael do everyday. Theresa and Annie came up with a beautiful alternative to a plastic, 'made in china' hair brushes. They've been making all kinds of different wooden combs. They work great and leave your hair soft and shiny with less split ends. I'm totally addicted to them! I haven't had to use a plastic brush since they brought the first one in. Way to go girls!!
Lizzy has been learning to knit and purl and has been having fun making blankets for her little dolls. Johnny is rapidly learning to read all of sudden. He just woke up one day determined to figure out this whole reading and writing thing and he's just blowing me--his phonics teacher--away! I wish it was this easy for all you home-schooling parents out there, he really makes this tutoring job easy.
Now the breaking news of the day, is that Donna, a.k.a. Miss CuteO, is potty training! We figure now that she's walking, it's time to stop soiling all those cloth diapers. It's going fairly well, though not as good as some of us cherubs had done, as she is just a tad stubborn and a maybe just a mite spoiled...
We've also been crafting for our new home'nstead online country store! It will be hosted through Etsy and I'll let you know as soon as it's up and running, so you can go take a look at the things we've been creating. Hopefully that will be all set up and going soon. Everybody is contributing their talents toward the creations that will be sold there, so it's fun to see it coming together. So anyway, that's another thing that's been taking up our time.
Eh, enough blabbering. I got some pictures here, of the kiddos in action enjoying all their snow for Grandma and Grandpa in AZ to see.
Well, the rest of you can look at them too, if you want.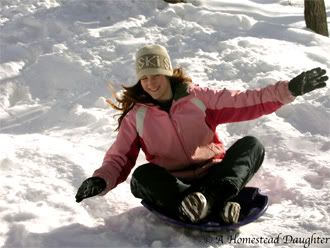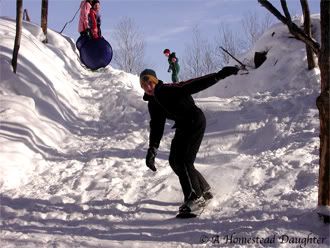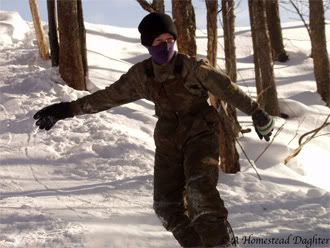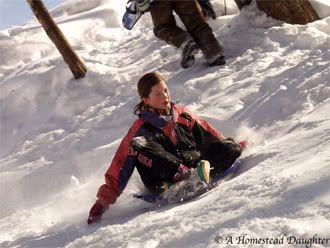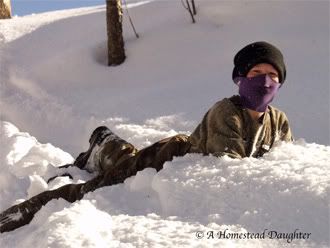 The End.
Alright, now if you can identify this in five seconds, I'll give you a dollar!!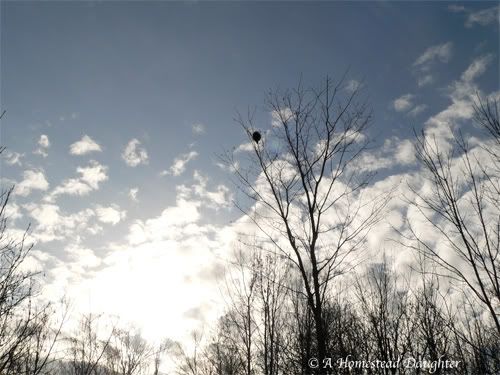 No, just kidding.
But if you guessed porcupine you were right!! (just out a dollar--sorry!
).
Thanks to the help of some friends, the boys were able to acquire some pretty cool shots of this guy, as he enjoyed his lunch way the heck up in a tree top.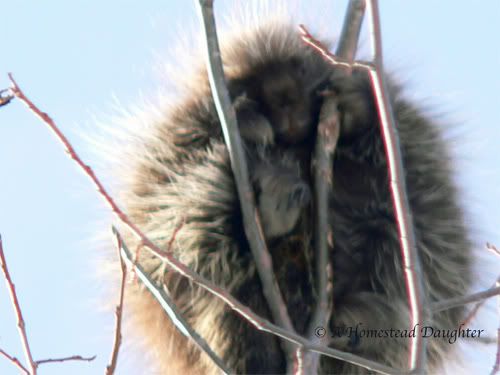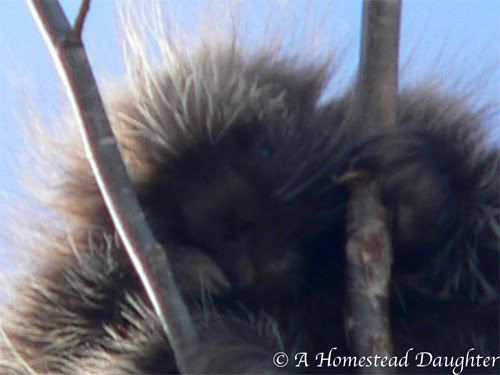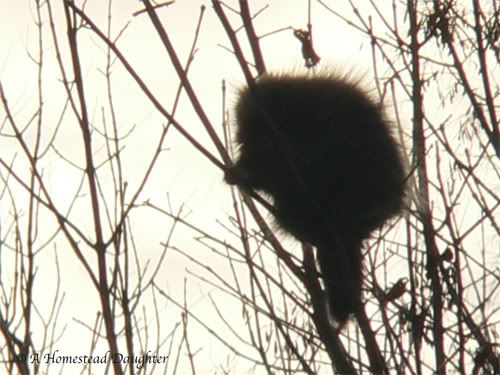 Okay, well that's all the news for today. Thanks for your continued interest and reading! In a few days, we'll be uploading the new online country store so you'll have some more pictures to look at then...
..and until then...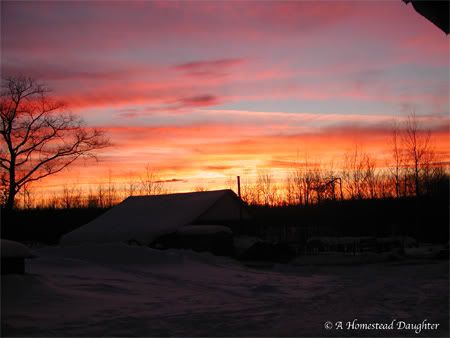 May God grant you all peace filled content hearts, centered in His own.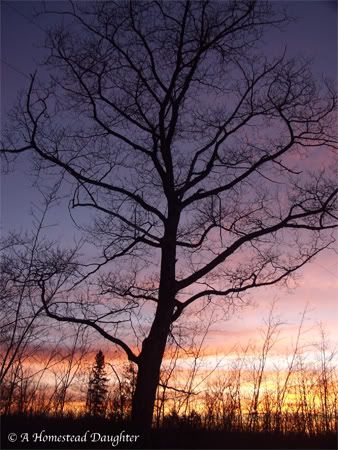 May God bless you.