Dear Family and Friends!
Snowy greetings of Christmas from a wintery north! I'm sorry our Christmas greeting is overdue this year, but better late than never, and besides, it is still the Christmas season!
We've had a wonderful year of growth as a family. My baby sister cut a decent set of teeth, took several steps, grew some hair, learned some words and turned one just before Christmas. On the flip side, my oldest brother turned twenty last month, headed some construction projects and is now courting a wonderful young lady. So much change, so little time gone by! Now for all those in-between siblings that I missed... My two silly middle brothers who started the year off as a nearly matching set of bookends have now been separated by almost a foot on Stephen's part. He's now looking down on all the females in this family! Despite the height difference, their playful wrestling has remained a routine part of their morning farm chores--especially when there's a new layer of snow to play in!
Michael and Stephen have really overtaken the workshop in the last year with all the items they've been turning out from there. Speaking of taking over, Annie has been making her mark on Mom's kitchen (and in our stomachs!). I know a couple boys who really appreciate her sweet tooth! Theresa and Stephen trained and sold three ponies this year, greatly helping the families finances with their horse training talents. They are now working on the mules.
Lizzy has learned to change diapers as well as knit and crochet a little this year. Her jobs of dishes and laundry keep her busy, as well as pen-fuls of cute, furry animals and one of those 'tag-along' little brothers. Ah, yes, Johnny, the man himself: spent some time this summer with his older brothers in the filming of the newest Indiana John sequel. His first farm chore duties, which include the chicken chores, have been dragging him out of bed earlier than he'd like, but he's been complying in order to keep up with the pace of his older brothers.
My parents celebrated twenty-three years of marriage on Thanksgiving day this year, and are more in love, if possible, than the day they were pronounced one. As for myself, ah, well, I must have been doing
something
this year to attest to the lack of news being posted on this blog right?
Wellll.... working outside in the quiet of nature, and playing with siblings is all that comes to mind for this summer. I know, I'm spoiled... I wouldn't trade places with anyone!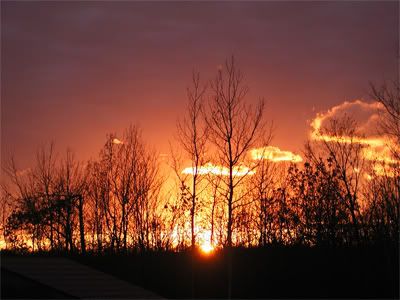 Our Christmas was beautiful and simple, as usual. Though, instead of our
normal Kris Kringle
, Mom proposed that we just have boys vs. girls: boys make presents for the girls and the girls make presents for the boys. It worked out better this way, because we could conspire and work together and even the younger kids got to paint and help with the gift making. After our gift giving party on Christmas Eve, and after the parents and Donna went to bed, we stayed up for a whole hour talking about how we
so
love the way we do Christmas presents. It was just so much fun, we had to share with each other, and agreement was had from everyone. This incredible fun came more from the
giving
than the receiving. Though seeing the hours of loving work my brothers put on my gift was quite touching as well. Even Johnny, (6), was bouncing out of his seat with far more excitement when we were opening the presents that he'd helped on, than he was over his own brightly wrapped gifts. Also, the simplicity in the presents and the fact that they cost $0.00 and were enjoyed far more than Walmart specials, was, in a way, peaceful and settling to the mind. So, without further ah'brag,
here are some pics of the gifts:
My present: a little wagon, just dying to be set out on the porch, carrying some of my flower pots. For now, it carries a festive bear and bow.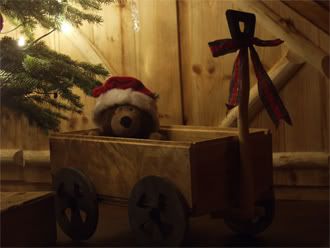 Annie's present: A parakeet playground for her bird--all made of twigs they cut out of the woods!
Theresa's gift: Personalized rabbit food bowls for her pet bunnies.
Lizzy's gift opening. I'm so sorry I don't have a pic of her toy to show you--all you can see is it's carrying case!
It's a game where you set up your castle pieces and fire at each other's castle with your little catapult and ammo. It was such a hit! (literally!!
). The kids from 50 to 6 years of age, have been playing it constantly! I think we went through nine rubber bands on the catapults by now.
Miss Cute-O unwrapped her present so neatly, that it took her half of forever to get to the gift! After every shred, she'd hand it to me and carefully go after the next one.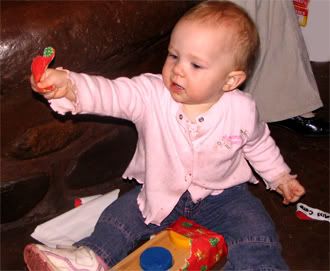 She got a wooden shapes game, where you fit the pieces into the slots. To our delight, she actually played with it the entire time we went about unwrapping our other gifts!
Before I go on to our gifts, I have to point out that Stephen and Michael did most of our gifts themselves, as Andrew was busy on a different project.
Okay, Andrew got two pairs of PJs from us, but I don't have a picture, so you just have to trust me on that.
Stephen got two Tshirts and a pair of spidey slippers. This one reads: "
I'm 99% crazy, and 1% genius because I figured that out myself".
The other is a spider-man fan shirt to accompany the slippers.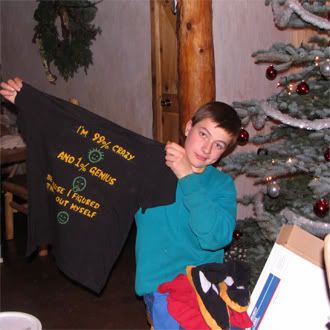 To Michael we gave Crylian action figures made of wood. (Crylian is the novel Annie wrote, of which Michael is a big fan). Theresa managed to handle the saw in cutting them out!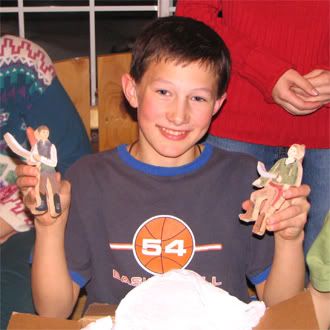 ...And, Crylian jammies.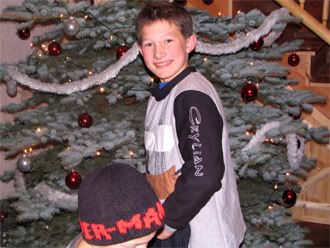 Johnny got a knitted spider-man hat and...
...the official Indiana John 3 board game! Original concept, complete with action figure playing pieces and a colorful board with pictures from the movie. Another hit, he loves it!
And from us, Donnie got a stuffed kitty (de-clawed!) sewn out of a bath towel and strung with festive jingle bells and holly. Complete with a crocheted leash made by Lizzy.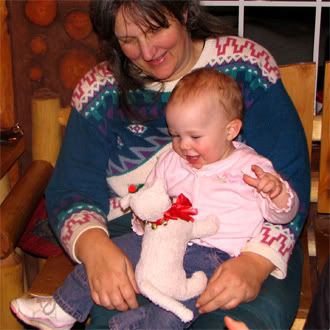 Christmas day was simple and joyous. With good food, good company and a beautiful morning Mass, at which all three of my older brothers were privileged to serve at.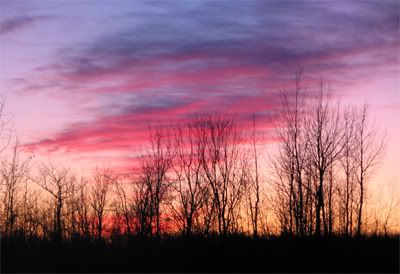 Some fresh snow falls throughout the holidays had the horses feeling frisky and playful. Having two playful babies and a yearling out there this year seems to have generated new life throughout the herd.
They get everybody stirred up and goin'!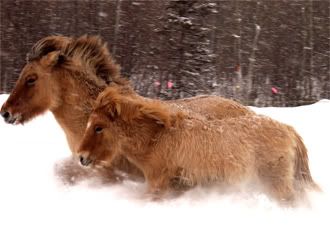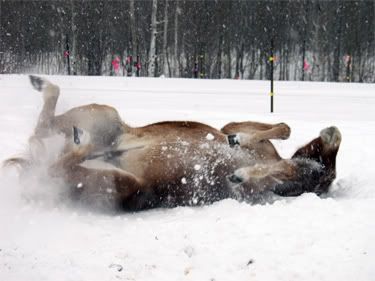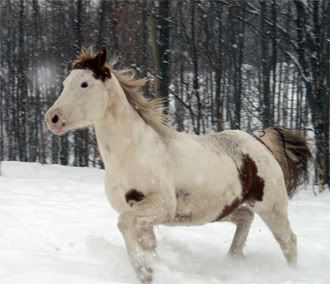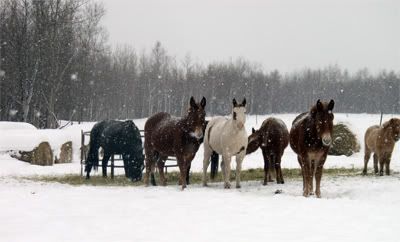 Alrighty, nuff pictures posted for one post. I'm sorry I can never seem to limit them! So good bye and good night, watch out for that big luminous star tonight!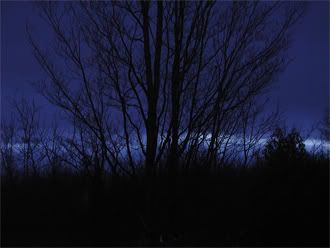 A very Merry (belated!) Christmas to you!!
Oh wait! I can't sign off without (as usual) bearing some kind of tribute to the camera man!
Though everybody has contributed to these pictures, the cap still goes to Stephen for most creative Christmas photography...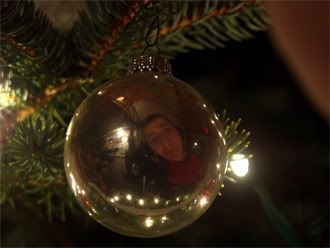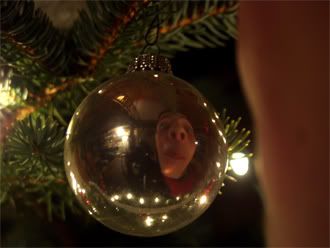 LOL!! These just
crack me up!!
*wipes tears from eyes*
Ahh, sometimes a good picture says it all!