Hello! Just dropping by to brag a bit, about how I have the cutest-ever baby for a little sister...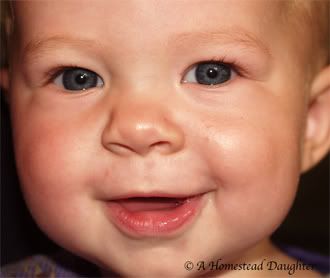 Since I have quite the overflow of pictures of our angel, I decided to drop 'em all on you at once, to, of course, leave you with a smile on your face for the rest of the day.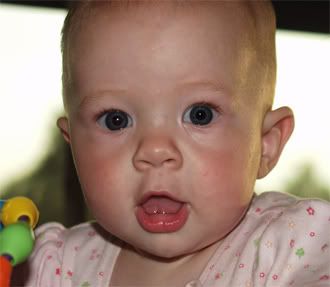 These are in a simple order and I'll name each category for you as we get down to them...
We're going to start with 'sweet smiles':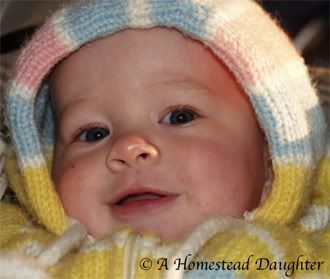 (Modeling Theresa's hand knit baby set. Sorry about the tag on the bonnet--forgot to take that off.)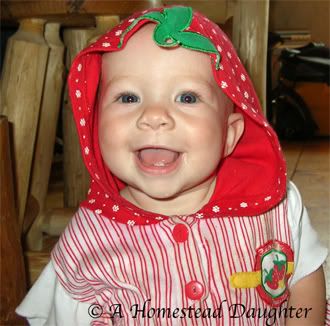 Moving right along to 'goofy girl':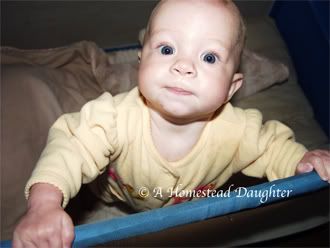 (Look what happens when Michael plays dress up with our princess! This one was taken today.)
On to 'toothy grins':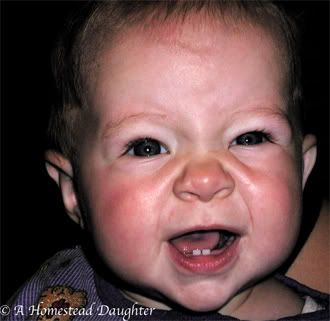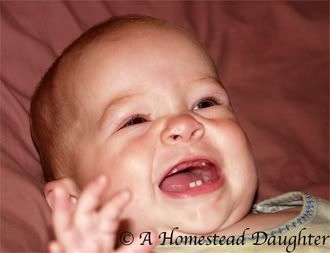 (See how her top teeth came in!? Little fangs. Thankfully they're all down now.)
(Doing her new scrunchy face. Melts my heart!)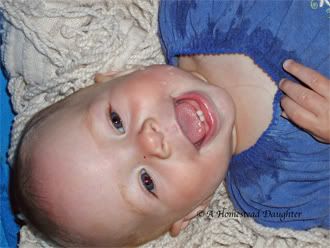 'Hungry honey':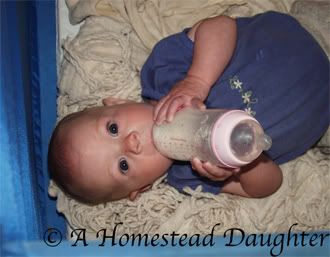 'Cutie Fruitie':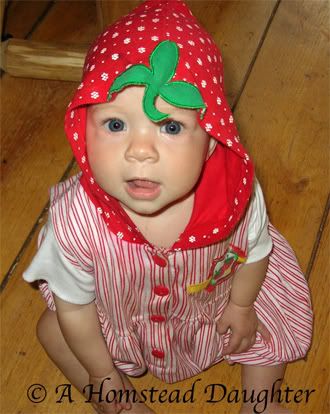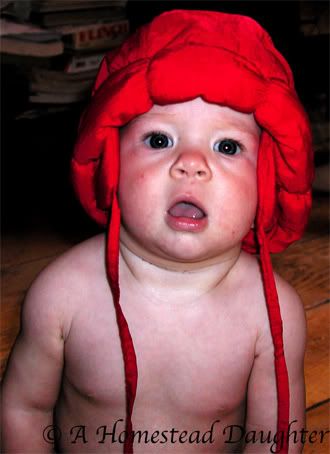 (The little raspberry hat is quite profound actually, considering her new favorite activity is sticking her tongue out at everybody.
Particularly cute during meal time....
)
Okay, so am I bigoted or does she pass for cutest ever?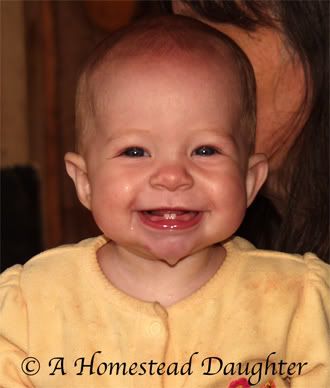 Oh, and guess what?! She's crawling now, at 9 months, which is sooner than any of us ever crawled. Trouble on the go. Oh well, at least it's cute trouble.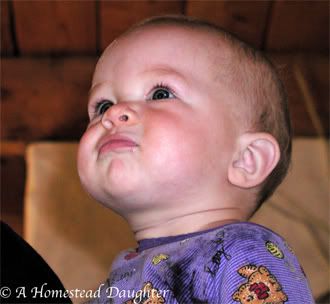 I was just sitting out on the porch with the precious, watching the first stars appear and sharing a big apple with her and pondering what a testament to life she is. I'm so glad that God found our family worthy of another life to be raised in it and I'm excited to share this peaceful life with His angel. And I'm so proud of my parents for bucking prudence by the world's standards and choosing life, insured by heavenly prudence, in that He was asking my parents for another little child to serve Him and they responded out of their trust in Him. I still marvel at the renewal she brought our family. I think the amount of fresh love our family generated just for her would be enough to convert a country.
May she grow up, another beautiful flower in our Mother's garden, to always serve and share the love she's been given with the world.