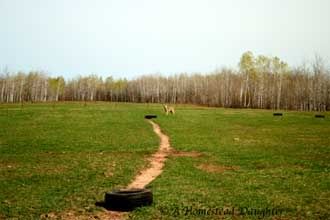 Zooooom in:
So, the other morning I was at the kitchen sink watching Theresa out in the field, watering the new trees, when, all at once I was blinking in surprise as a foreign dog nonchalantly walked out from the tree line about 100ft. behind her. He walked out in the front of our football field, where that tire is in the background.
We shouted from the door for her to turn around and look. The mules hurried to the edge of their fence line to study the newcomer in the field beyond. (See him out there in the middle?)
A quick zooooom on the picture above: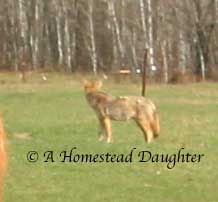 Some of the boys took off for a closer view, while Stephen went for his camera and Mom stressed about her children getting too close. (He did move to the back of our football field, marked off by the tires.)
Another zoooom in on the picture above:
The guy was just playing around, uncaring of the loud activity around him as he rolled and hopped around in circles. Finally, Dad fired a few shots into the air and he took off for the woods.
Starting to come closer, just before the gun shot in the air.
Taking off scared for the wood line after the gun shots.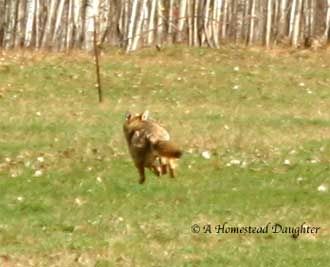 Since there was much debate as to whether or not he was a big coyote or a small wolf, we would never have taken the chance of killing it. Besides, he wasn't close enough to be a danger... just slightly nerve wracking how comfortable he seemed to be with our homestead.
With all the debate, I recalled the guy that was in our back pasture
last spring
... still don't know what he was either.
After lots of looking up online, comparing pictures and stories, we finally decided: We don't know.
Well, what's your vote?
(BTW, sorry about the blurry pictures... Stephen took quite a ribbing for those! Apparently, he had a wrong setting on at the time. lol!)