It would seem ol' mother nature got a kick out of my 'spring themed' post yesterday. (It
was
the first day of spring after all!) This morning we woke to 5-6 inches of snow on the ground...
The creeks have slowed, but are still moving undauntedly towards the lake, hopeful like the rest of us that this will be the last dropping of white fluffy stuff that we have to witness for a while...
And still the pine trees will remain the only bit of green in the woods, hopefully just for a little while longer...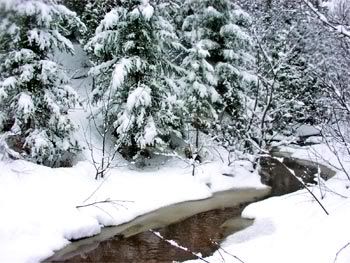 With spirits dampened only slightly, we look forward to a warm day today so that all the snow may go away!