Everyone is talking about how cold it is these days. I've heard -14, -28, -40, etc. We're a toasty -2 here! Despite our warm temperatures
we have been staying inside at lot lately. Andrew is building cabinets under the stairs and Dad is building closet doors for the loft. They alternate days between heating the garage and working out there and filling the living room with tools and working in here. The kids usually take some encouragement in the mornings to go feed and care for the animals. After that they pretty much disappear into the loft for the day, doing school, playing with their homemade little people and doing board games. If it's a little warmer (or sunny) out, they'll go out and sled too, or wait until the evening when Andrew finishes his work so he can go out and tackle them into snowbanks in their nightly football games. Johnny usually follows them around but it seems like lately he's been on my coat tails more. I guess watching me burn and cut myself in the kitchen is more entertaining than watching Michael do math.
I'm still finding plenty to do in Mom's absence, learning a lot of cooking skills in the kitchen, like what's hot and how things burn when you leave them on the heat too long...
lol. I'm getting some much needed practice, not only in the kitchen but in all lines of domestic duty. I've found it suits me just fine too, and I would be perfectly content to do it the rest of my life if that's what He wants... The girls are filling their days with baby sitting. Not only with dear Donna Marie, but with the little neighbor boy that we're always baby sitting too, so his Mom can work. They're both cute as buttons but even buttons can be handfuls.
We've been picking up our instruments more now that we're inside a lot. It's fun, but after 5 months leave, we stink!
We've all been thoroughly enjoying Donnie's babyhood. She's a month old today, and such a precious princess!! It's been decided that she most resembles Annie, with Theresa's eyes. Pretty cute.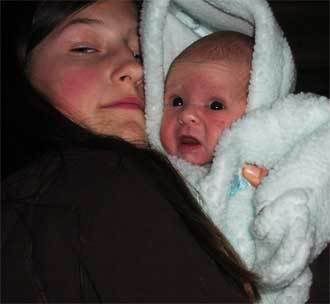 Donnie and Johnny. Big brother is happy to finally be a 'bigger than somebody' in this world!: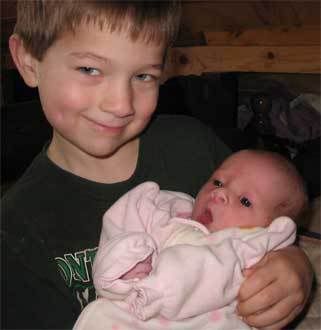 Donna hasn't really smiled yet. In fact, usually she just looks at us like this: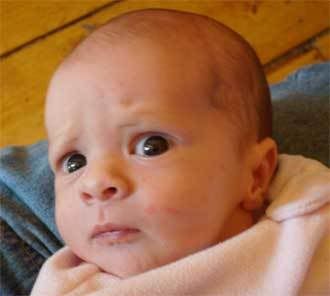 Should we be alarmed? Really, I didn't think we were
that
crazy of a family...
The ponies love every fresh snowfall. They have to run and kick up a cloud of the fresh snow behind them at each new addition of whiteness to their pasture.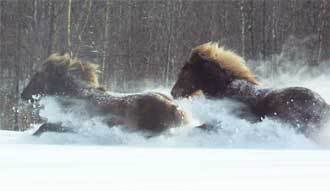 "Whaddya, *pant*, lookin at, *pant*?"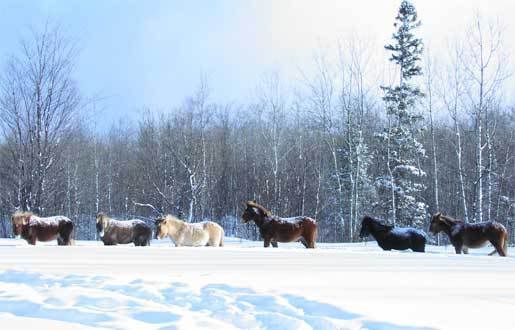 Signing off with a cool picture of Stephen's that he took of the house the other night when we had a huge full moon and the kids were playing outside: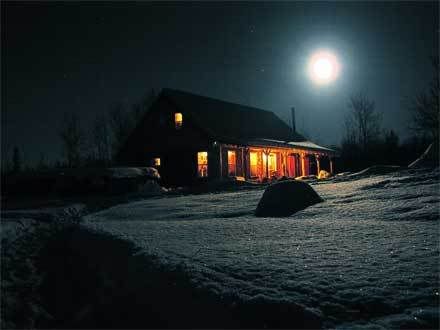 My nice brother took the hint and is almost finished with a slideshow of Donnie.... should be up soon.
Until then!